Qingdao research facility introduces sea rice planting in Dubai
Led by hybrid-rice expert Yuan Longping, the Qingdao saline-alkali tolerant rice R&D center launched its first overseas program in Dubai, the most populous city in the United Arab Emirates, on Jan. 12, reported Dazhong Daily.
Titled "green Dubai", the project aims to create oases for farming in the arid desert environment on the south bank of Persian Gulf, as part of the efforts of promoting saline-alkaline tolerant rice, which holds great significance in securing food safety since the coverage of saline-alkaline soil reaches 950 million hectares worldwide.
The project was launched following the center's successful the experiment in September which had seen rice yield reaching 621 kilograms per mu (667 square meters), or 9268 kg per hectare, in the saline-alkaline soil at the coastal nature park in the Licang district where the center is located along the Jiaozhou Bay.
The rice cultivation technologies introduced in Dubai integrates soil conditioning, plant growth regulating, and stress resistance improving technologies with internet of things system to improve land fertility. The technological elements can be adjusted to form targeted solutions for lands in varying conditions.
Reportedly there have been 10 hectares of planting area developed in Dubai and the acreage expects to expand in the future.
Saline-alkaline tolerant rice has a figurative name – sea rice. Wild sea rice grows in saline-alkaline soil at river deltas, displaying clear advantages including resistance to salt and alkali. But the natural species have low yields, so there is a need for improvement to increase production high enough to incentivize farmers to start growing sea rice.
Arguably the saline-alkaline tolerant rice manipulated by human will gain high productivity while maintaining the natural species' merits. Growing in saline-alkaline soil, the plant will carry high contents of micro-elements including calcium which are abundant in the environment, and is less prone to exposure to pesticides for the salty environment proves to be difficult for pathogenic bacteria to grow in.
Known as the "father of hybrid rice", Yuan Longping has been focusing on rice planting in saline-alkaline soils in recent years, and facilitated the founding of the Qingdao center in 2016 with the aim to realize mass production, which is of practical interest for China's agricultural development.
The country has 100 million hectares of saline-alkaline soil, about one fifth of which are identified as suitable for rice planting, being located across the long stretching coastline and the vast interior.
To explore soil conditioning solutions for various saline-alkaline soils typical in China, the center has set up demonstration bases for sea rice planting in Shandong, Xinjiang and Heilongjiang.
In the next few years, the center plans to mature the technologies to develop economical solutions for industrialization of sea rice planting.
To fulfill this goal, the center will start to try and build five to 10 sea rice planting bases in different climatic regions in the country in 2018.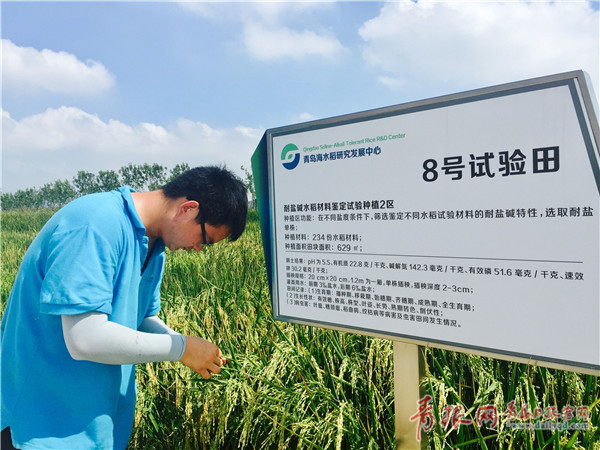 Send your stories
Get more from China.org.cn

Mobile

RSS

Newsletter