Air quality in Chinese cities is now under stricter monitoring in the new year. The Ministry of Environmental Protection has issued a set of more comprehensive standards to include the density of tiny suspended particulate matter in the nationwide monitoring network. The new standard, known as P-M 2.5 refers to particles with a diameter smaller than 2.5 micrometers. They tend to stay in the air longer and pose more threats to people's health. But their density level was largely unknown to the public in the past.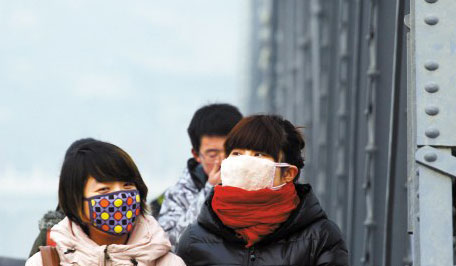 PM2.5 now in China's air quality standards
Size does matter when it comes to P-M effects on human health.
With a diameter finer than one thirtieth of a single hair strand, tiny suspended particles can be easily inhaled and settle in the lungs. And they stay in the air for weeks, constributing to the suffocating smog shrouding some Chinese cities in winter or early spring.
With the new standards in place, the public can at least be beter informed about the air quality on a daily basis.
Zhao Yingmin, Director of Science and Tech. Ministry of Environmental Protection, said, "The primary concern of the new standards is to accurately and objectively reflect how clean the air is. Our ultimate goal is to protect the human health and ensure the security of our ecological system. The standards would be useless if they fail to gauge the real variation of air quality. That's why we decided to put more pollutants under our close watch so that we can provide a more complete picture of the air pollution degree in China. "
The new set of starndards is comprehensive and no less importantly, more up-to-date.
The Ministry requires monitoring stations throughout the country to release latest figures of PM 2.5 density and variations of other pollutants by the hour. This will help the public make better-informed decisions.
Luo Yi, Head of China Environmental Monitoring Station HQ, said, "The general public may not totally understand what each figure signifies. But we are trying to present a more comprehensive evaluation system to them as reference. This is also the international practice which is applied in many other countries. Of course we need to do a bit more explanation and public education."
Another major change is that industrial areas are required to maintain the same level of air quality as residential areas and commercial districts. Industrial sectors will have to do more to balance profit-making and environmental protection.