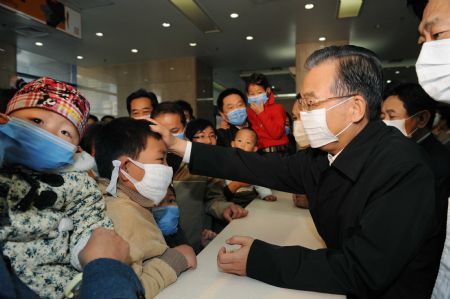 Chinese Premier Wen Jiabao (R2) talks with patients at the Beijing Children's Hospital in Beijing, capital of China, Oct. 31, 2009. Premier Wen visited A/H1N1 patients and medical staff at the Beijing Children's Hospital in Beijing on Saturday. [Xinhua]
Chinese Premier Wen Jiabao on Saturday called for tightened prevention measures against A/H1N1 influenza as the country recorded an increasing number of people catching seasonal influenza upon the arrival of winter.
In a visit to a children's hospital in the Chinese capital, Wen said the country faces severe challenges in the prevention and control of A/H1N1 and some areas are likely to have a sharp increase in the number of patients infected by the epidemic.
He said the country is fully confident and capable of doing well the prevention and control work of the A/H1N1 flu and would spare no effort in helping patients, especially those with severe symptoms, to recover.
Doctors would reassure patients that A/H1N1 flu can be prevented, controlled, and cured, he said.
Wen required intensified efforts to spread the knowledge concerning prevention and control of A/H1N1 flu and asked medical authorities to beef up prevention measures in schools and urban communities.
He also urged to mobilize residents to inoculate A/H1N1 flu vaccines on a volunteer basis and called on vaccine producers to speed up their production.
Medical staff should be careful and avoid infection when treating patients, he said.