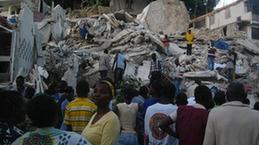 A total of 100 to 150 UN personnel were trapped under the rubble of the main building of the UN mission in Port au Prince, Haiti, which collapsed in a powerful earthquake, UN officials said Wednesday.
The UN staff members were still working at the headquarters of the UN Stabilization Mission in Haiti (MINUSTAH) when the earthquake struck, UN Secretary-General Ban Ki-moon told reporters at UN Headquarters.
When asked about the condition of MINUSTAH head, Hedi Annabi, Ban said that information is still "scanty" and the UN currently has no "exact information" about his safety.
Ban said that Annabi, a Tunisian, and his Brazilian deputy, Luiz Carlos da Costa, are "as yet unaccounted for."
The Force Commander's office of MINUSTAH was housed in the Christopher Hotel, a five-storey building built in the early 60s.
"Many people are still trapped inside," the secretary-general noted, saying that he has been in close consultation with the governments of Haiti, the United States and others.
Troops, mostly from Brazil, serving with the UN Stabilization Mission in Haiti (MINUSTAH) have been working through the night to reach those trapped under the rubble, and several badly injured people have been rescued and transported to the mission's logistics base which remains intact.
Under-Secretary-General for Peacekeeping Alain Le Roy told journalists that fewer than 10 UN staff were pulled out of the collapsed Christopher Hotel, with some of them confirmed to have died.
Less than five people have been confirmed dead, Le Roy said, adding that the Montana Hotel, where some UN personnel lived, also collapsed.
UN Development Program (UNDP) Administrator Helen Clark told reporters that some 38 members of her staff are unaccounted for.
Buildings and infrastructure in Port au Prince suffered extensive damage, while basic services, including water and electricity are near the brink of collapse.
The full extent of casualties, which could number in the hundreds, is still unknown, Ban said.
"There is no doubt that we are facing a major humanitarian emergency and that a major relief effort will be required," he said.
Expressing gratitude to nations rushing aid to the earthquake's victims, he called for the world to "come to Haiti's aid in this hour of need."
The UN, he said, is also mobilizing an emergency response team to help coordinate humanitarian relief efforts and is expected to be on the ground shortly.
"We will immediately release 10 million dollars from the Central Emergency Fund (CERF)," the secretary-general said.
The UN chief said that he will dispatch Edmond Mulet, his former Special Representative to Haiti and current Assistant- Secretary-General for Peacekeeping Operations, to the country.
"The first priority is search and rescue," with teams from the U.S., China, France, the Dominican Republic and other nations on their way to Haiti, Under-Secretary-General for Humanitarian Affairs John Holmes told reporters.
The UN, he said, will launch a flash appeal to kickstart what " will certainly be a major operation and a major relief effort."
MINUSTAH was set up in 2004 and currently has more than 9,000 military and police personnel and nearly 2,000 civilian staff.
Some 3,000 of the mission's troops and police are in and around Port au Prince, and will help to maintain order and assist in relief efforts. They have also started to clear some of the capital's main roads to allow aid and rescuers to reach those in need.
Meanwhile, the UN Security Council Wednesday observed a one- minute silence to send "heart-felt condolence" to the dead, including UN peacekeepers and civilian staff, in the Haiti earthquake.
UN Secretary-General Ban Ki-moon and members of the Security Council all stood up for one-minute silence to mourn the victims in the devastating earthquake at the request of the Chinese permanent representative to the United Nations, Zhang Yesui, who holds the rotating Security Council presidency for January.