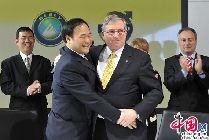 China Geely buys Sweden's Volvo

China's Zhejiang Geely Holding Group signed a deal worth 1.8 billion U.S. dollars with Ford Motor Co. here Sunday to acquire the U.S. auto giant's Volvo car unit.

Under the definitive stock purchase deal, Geely will own 100 percent of Volvo Cars and its related assets.

The agreement was inked by Li Shufu, founder and chairman of Geely, and Lewis Booth, chief financial officer of Ford, at a ceremony at the headquarters of Volvo in Goteborg, the second largest city of Sweden.

The ceremony was witnessed by Li Yizhong, China's minister of industry and information technology, and Maud Olofsson, Swedish deputy prime minister and minister for enterprise and energy.

The agreement provides a solid foundation for Volvo to continue to build its business under Geely's ownership, said Booth at the ceremony.

"China, the largest car market in the world, will become Volvo's second home market. Volvo will be uniquely-positioned as a world-leading premium brand, tapping into the opportunities in the fast-growing China market," said Li.

Geely has secured all necessary financing to complete the transaction, he said, adding that Geely intends to preserve Volvo Cars'existing manufacturing facilities in Sweden and Belgium, and explore opportunities to manufacture Volvo vehicles in China for the local market.

Li promised that Geely will maintain the strong collaborative relations that Volvo has built with employees, unions, suppliers, dealers and above all, customers.

Volvo Cars will eventually become a separate company with its own management team based in Goteborg and a new board of directors, he told reporters after the ceremony.

Volvo, which has about 22,000 workers around the world including 16,000 in Sweden, was purchased by Ford in 1999 for about 6.4 billion dollars.

But Ford has been attempting to sell Volvo since late 2008, due to its poor market performance. Geely was named as the preferred bidder for the Swedish subsidiary in October 2009.

Geely, which started to manufacture cars in 1998, is a major private automaker in China, with its headquarters based in southeast China's Zhejiang province. Geely Holding Group is the parent company of Geely Automobile Holdings.

Besides Ford, some other Western auto giants are also seeking buyers in China. Beijing Automotive Industry Holdings has agreed to buy some powertrain technology from General Motors Co.'s Swedish Saab unit.