Many attendees of the 17th Beijing International Book Fair cited the success of Yu Dan's Confucius from the Heart as an example of Chinese authors making inroads in the overseas publication market.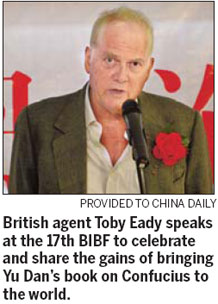 More than 234,000 copies of the book have been sold in 17 languages, with editions in 11 more languages on the way. The book has been a particularly big hit in France and India.
Many publishers and officials have attributed the book's global success to one man - Briton Toby Eady, an independent literary agent, who represents Yu in dealing with the book's sales worldwide.
Eady, who has represented Chinese authors for 25 years, says his passion for China started in his teenage years.
He recalls the day when an Australian friend recommended a book by a Chinese writer that he instantly knew he wanted - that is, Yu's work on Confucianism.
"The book explains the morality of modern China and is an easy read," he says, adding that foreign readers are especially interested in the mode of Chinese thinking.
Eady believes strong translation is essential to ensuring a book's success rivals the others'. He refuses to work with a writer or translator he hasn't met in person, because he needs to be certain both are passionate about the work, he says.
He says he was lucky to encounter the translator of Yu's book, Esther Tyldesley, almost a decade ago. Tyldesley was then teaching in a small town in China.
When Zhonghua Book Company asked Eady if he could find a translator for Yu's book, the requirements were that the candidate should be a native English speaker with an educational background in Chinese language and culture, and have lived in the country for more than three years.
Tyldesley fit the bill, and Eady arranged for an introductory meeting with Yu. The two hit it off, and the success of their cooperation speaks for itself.
While the world is reading about Yu's interpretations of Confucius' wisdom in handling daily affairs, Eady says the main lesson he took from the book is "to see things as they are and don't bring extra difficulties along".
Eady's handling of Yu's work is also inspiring to Wu Wei, office director of the China Book International project, which promotes Chinese books abroad.
Wu is considering introducing the literary agency to Chinese authors, few of whom have overseas agents.
"Writers require a special agent who can understand and assist them in dealing with foreign publishers," she says.
"That way, the next time writers' speeches at international fairs arouse foreign interest in cooperation, the discussions can remain ongoing after they return to China rather than end at the event."