Three people were killed by firearms Friday in Albanian capital Tirana after a protest rally organized by opposition Socialist Party turned into a riot.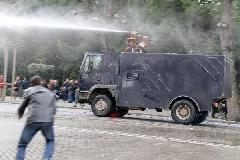 A protester throws stones at a water cannon in Tirana, Albania, Jan. 21, 2011. Two people were killed from firearms after a protest rally by Albania's opposition Socialist Party turned into a riot in front of the government building for three hours before the protesters disbanded. [Yang Ke/Xinhua]
"Unfortunately, three people have died," Alfred Gega, the deputy director of Tirana's Military hospital. He added more than 30 protesters and 17 policemen had been hospitalized. One policemen and one protesters were in a critical condition.
Police in riot gear took control afterwards of the main boulevard, beating some of the protesters in the street and even inside some commercial areas off the street. Reports of one more dead could not be independently confirmed.
President Bamir Topi called for calm and maturity. His calls were echoed by Socialist Party leader Edi Rama, who blamed police for provoking the protesters. Police fanned out through the main boulevard, chasing some protesters and beating them with truncheons.
Prime Minister Sali Berisha, who said he had been in his office as the protest raged outside, blamed Rama and other opposition leaders for trying to oust the government in a scenario similar to the one in Tunisia.
He confirmed three people were dead and said they had been shot with weapons not carried by the security forces.
"Albania is not in an extraordinary situation and will not pass into an extraordinary situation. But the scenarios of violence will not be tolerated," Berisha told a news conference in his office.
Amnesty International has urged the authorities to investigate the deaths.
"The police have a right to maintain order and protect the public, but they must not use excessive force against those carrying out their legitimate right to protest," said Andrea Huber, Amnesty International's Deputy Director for Europe and Central Asia.
The European Union, the United States and the Organization for Security and Cooperation in Europe said they deeply regretted the demonstration was not peaceful and resulted in casualties.
"Violence and excessive use of force cannot be justified and should be avoided. We urgently appeal for calm and restraint on all sides and to abstain from provocations," the EU, U.S. and the OSCE said in a statement.
"Albania is a democratic country and aspirant to EU membership with the necessary democratic institutions in place. We therefore renew our call for constructive dialogue and compromise to resolve the existing political differences," they added.
The riot began while the crowd was walking past Berisha's office and a small group and police clashed, with protesters fighting with sticks and throwing stones. Police pushed them back by firing tear gas and rubber bullets and spraying the crowd with water cannons.
The thumping of stun grenades and tear gas bombs shook the air and there were also sounds of live ammunition being fired.
Some in the crowd moved to the side of the premier's office building and began throwing stones from a museum nearby and set on fire a police car and other cars later. Two palm trees in front of Berisha's office was also set on fire.
Upset with inconclusive dialogue over its demand to investigate what it calls the fraud of the June 2009 parliamentary elections, the Socialist Party called for the rally to ask for fresh polls and the resignation of the deputy premier over corruption allegations.
Albania is scheduled to hold local elections on May 8.