The number of Chinese women trafficked overseas and forced into prostitution has risen amid an increasing presence of international crime groups, a senior police officer said.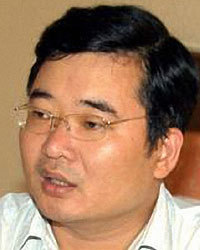 Chen Shiqu is director of the anti-human traffi cking offi ce under the Ministry of Public Security. 
The women, mostly from poor rural areas, were trafficked mainly for forced marriage or forced prostitution, Chen Shiqu, director of the anti-human trafficking office under the Ministry of Public Security, said.
Forced marriages in poor areas of Southwest China's Yunnan and Guizhou provinces were behind most of the trafficking, he said.
"But there has been a growing trend for organized transnational human trafficking crime groups to target Chinese women for forced prostitution in foreign countries," Chen told China Daily.
A majority of the targeted women were from poor rural areas in China and were trafficked to Southeast Asia, Europe and Africa, Chen said but declined to provide specific figures.
But he cited statistics from Malaysian police as saying a total of 5,453 Chinese women suspected of engaging in prostitution were detained by the end of November.
Chinese police have cracked 9,165 trafficking cases and rescued 17,746 women since April 2009 when the Ministry of Public Security launched a special campaign, according to statistics from Chen's office.
Huge profits for organized crime groups allied to poor awareness among rural Chinese women about the dangers of human trafficking contributed to a growing number of international cases.
"Many of the trafficked women were cheated by criminal suspects under the guise of overseas study or high-paid jobs and then forced into prostitution," he said.
There is an increasing need for more international cooperation as trafficking in other countries can involve various organized crime groups, he said.
China has signed the Mekong River Sub-regional Cooperation Anti-trafficking Memo with Thailand, Myanmar, Laos, and Cambodia and set up an annual senior-official meeting mechanism to help curb international trafficking.
Beijing has also established eight border offices with neighboring countries, such as Vietnam, Myanmar and Laos, to combat trafficking, Chen said.
Chinese police have also cooperated with their Russian, British, Australian and Malaysian counterparts in intelligence exchange and investigation.
Police in China, with the help of foreign counterparts, have carried out a number of successful rescue operations, Chen said.
Last November, police rescued 15 women who had been trafficked from Sichuan province to Africa for prostitution. The operation began following a tip-off in May that the women had been trafficked to Kinshasa, in the Democratic Republic of the Congo. The ministry dispatched a special investigation team there and detained two Chinese suspects, surnamed Zhuang and Yao, on Nov 26, 2010.
Dai Peng, head of the investigation department of the Chinese People's Public Security University, said lack of financial and manpower resources are hindering police efforts to fight international trafficking.
He Yunxiao, a national project coordinator from the UN Inter-Agency Project on Human Trafficking, told China Daily that international cooperation is vital, as it leads to greater intelligence sharing and the extradition of suspects.