Despite the resignation of the Egyptian government and appointment of a vice president and new prime minister, Egypt still saw thousands of protesters defy the curfew Saturday night, insisting President Hosni Mubarak step down.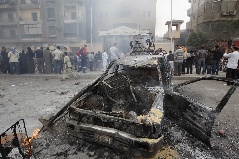 A burnt police car wreckage is left at a police station in Cairo, Egypt on Saturday, January 29, 2011. [Xinhua] 
Earlier in the day, Mubarak named intelligence chief Omar Suleiman as Egypt's vice president, the first of such position in Mubarak's 30-year rule.
Also on Saturday, former Aviation Minister Ahmed Shafik, who also has a military background, was named as the country's prime minister.
However, protesters and opposition figures were not satisfied with the nomination. Although a curfew has been extended from 4 p.m. (1400 GMT) to 8 a.m.(0600 GMT) on Saturday in Cairo, Alexandria and Suez, protesters still gathered at the Tahrir Square at midnight, calling for the end of the ruling of Mubarak.
In a related report, the Dubai-based Arabiya TV reported that around 5,000 Egyptian prisoners broke out of a prison in the Fayyoum Govenorate amid the nationwid riots Saturday night. But authorities have yet confirmed the incident while other press outlets desribed the number of the escapees as "hundreds".
Demonstrations turned into riots on Saturday in Cairo and other major governorates, where government buildings have been robbed by looters and clashes between protesters and policemen have led to deaths of many people.
The army called on Egyptians to protect themselves against looters who ransacked dozens of shops in Cairo and other governorates. Many Egyptians formed vigilante groups to protect their private properties.
In downtown Cairo, the building of the ruling National Democratic Party (NDP) headquarters was set on fire, the second time since Friday. Egypt's National Museum, located near the NDP headquarters, was not affected. However, some of its antiquities have been damaged earlier during the riots caused by the protests.