In the latest teaming of the United Nations environmental agency with major international sports events, the leading partners building the 2014 Winter Olympic venues in the Russian city of Sochi committed themselves today to restore any damage done to a key river basin.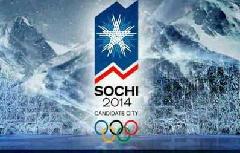 A year ago, the UN Environment Programme (UNEP) submitted a report to the Russian Government outlining the impact of construction work on the environment and called for collective action to safeguard the region's unique ecosystem, recommending development of a restoration and biodiversity preservation and management project for the Mzymta River Basin.
Today's Declaration of Commitments, facilitated by UNEP and witnessed by Government officials, was signed by representatives of various bodies involved in preparing for the games, including Russian Railways, the Gazprom energy company and the electricity grid.
"The Olympics are a source of national pride but also an opportunity for showcasing innovation and catalyzing action towards a more sustainable future nationally and internationally, one reason why UNEP is involved in the Olympic movement and a partner with the International Olympic Committee," UNEP Executive Director Achim Steiner said.
"Winter Games such as Torino 2006 and Summer Games such as Beijing 2008 have underlined the power and the potential of the Olympics to motivate millions and assist countries see a cleaner and greener development path."
UNEP has already submitted to the organizing committee 17 environmental projects that cover key areas including zero waste and climate neutrality. The waste programme aims to develop a plan for waste management that focuses on sustainable consumption, recycling and safe disposal, including new waste collection and processing facilities and procurement of environmentally friendly products, manufactured from low-impact, recycled and recyclable materials.
The climate neutrality or zero emissions plan details a strategy for carbon management to reduce and offset carbon emissions, including an auditing framework and reduction plan for greenhouse gas emissions, and development of a voluntary carbon offset programme for Russia.
UNEP was invited by the Russian Government and the Sochi organizing committee in 2008 to provide guidance on the integration of environmental considerations in the preparation and staging of the Games. The agency has a long-standing collaboration with the International Olympic Committee (IOC) in the greening of the Games that spans Athens 2004, Torino 2006, Beijing 2008 and Vancouver 2010.