Two of China's largest companies have apparently asked the government to temporarily lower or withdraw its levy on fuel oil consumption.
The Economic Observer Weekly newspaper reported that the State-owned oil and gas giants China Petrochemical Corporation (Sinopec Group) and China National Petroleum Corporation (CNPC) have asked for temporary respite as they battle rising oil prices.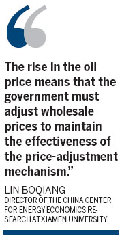 Experts said a tax reduction would benefit both companies and consumers as the oil price continues to rise and living costs remain high.
Sinopec and CNPC both reported significant growth in the first quarter of 2011. However, the profitability of their oil-refining businesses has declined as CNPC reported a loss of 6.13 billion yuan ($944.39 million), and Sinopec revealed a shortfall of 576 million yuan for the first three months of the year.
A Sinopec insider was quoted by the Economic Observer Weekly as saying that the refinery situation will worsen in the second quarter. Crude oil prices continue to rise and push up manufacturing costs, but the retail price of oil in China is not enough to cover the costs.
Industry analysts said a reduction in the levy would help the companies maintain better cash flow and reduce expenses.
The National Development and Reform Commission imposed a fuel oil consumption tax on oil manufacturers on Jan 1, 2009. Unlike other countries, China requires that the tax is paid in advance and must be recouped by passing on the cost to the consumer.
The companies have now discovered that their financial burden will increase because their total yearly profits - swollen by the extra costs passed on to the customer - will be taxed, and they will therefore pay a higher amount. Sinopec incurred some 30.3 billion yuan in oil tax expenses in the first quarter, while CNPC paid 22.9 billion yuan in oil taxes.
Qiao Xiaofeng, an analyst from China Merchant Securities, said a reduction in excise duties would allow the companies to remain profitable, even if the price of Brent crude rose to $135 a barrel. Brent traded at $125.89 a barrel on April 29.
Lin Boqiang, director of the China Center for Energy Economics Research at Xiamen University, said a reduction in duty would benefit consumers and maintain China's long-established oil price-adjustment mechanism.
"The price of gasoline is very high in China and imposes a heavy burden on consumers. There is less room for the government to increase prices," said Lin.
"However, the rise in the oil price means that the government must adjust wholesale prices to maintain the effectiveness of the price-adjustment mechanism."
"A minor tax adjustment would allow the government some room to adjust prices, and ease the financial burden on consumers at a time of high inflation," he added.