We want an aircraft carrier: poll
Global Times, May 5, 2011
In 2009, China's Defense Minister Liang Guanglie, in response to a question put forward by his then Japanese counterpart Yasukazu Hamada on the carrier issue, said that China needs to develop an aircraft carrier as it is the only major power in the world operating without one.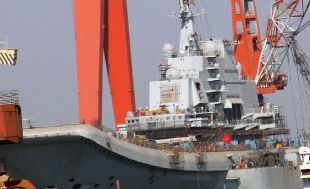 Photo shows the 'Varyag' aircraft carrier being built at a shipyard in Dalian, China. The great 'Varyag' is going to be China's first aircraft carrier.[File photo]
The possibility of China building a carrier has caused anxiety in the region. Last month, US Navy Admiral Robert Willard said the carrier's sea trial this summer would significantly change the perceived balance of power in the region.
The US Pacific Command led by Willard has five aircraft carrier strike groups.
Willard said Malaysia, Vietnam, Indonesia and Australia are in the process of building and expanding their submarine fleets.