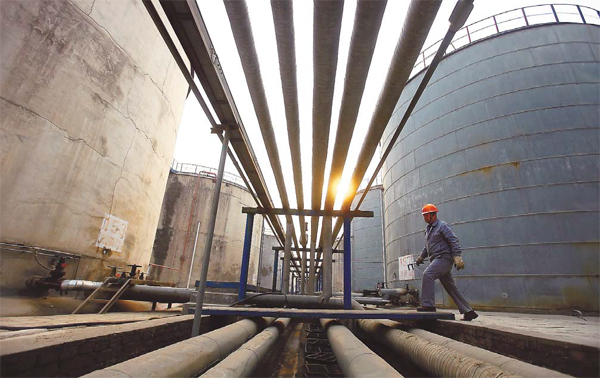 A subsidiary of China National Petroleum Corp in Lanzhou, Gansu province. The State-owned company's investment to develop and explore the Al-Ahdab oilfi eld in Iraq is about $3 billion. [ China Daily]
China National Petroleum Corp (CNPC), the nation's biggest oil company by output, said that the first phase of the Al-Ahdab oilfield in Iraq with an annual capacity of 3 million tons started operations on June 21.
The project marks "significant progress" in CNPC's construction of key oil and gas cooperative areas in the Middle East, Jiang Jiemin, general manager of CNPC, said in a statement posted on the company's website on Monday.
The oilfield, located 180 kilometers southeast of Baghdad, is the first major oil project to begin operation in Iraq for more than 20 years.
Al-Ahdab is expected to produce 25,000 barrels of oil a day in the first three years and 115,000 barrels a day in six years as stipulated in the contract, according to the company.
The oilfield, in south-central Iraq, was discovered in 1979 and has estimated reserves of 1 billion barrels.
The deal was initially signed with the government of Saddam Hussein in 1996 but was postponed after the United Nations imposed sanctions on the war-ravaged state and the subsequent invasion led by the United States in 2003.
CNPC finally signed the agreement under a technical service contract scheme, instead of the original production-sharing agreement, with Iraq's Ministry of Oil in November 2008 after protracted negotiations, allowing CNPC to develop the Al-Ahdab oilfield for the next 23 years.
The State-owned company's investment to develop and explore the oilfield is about $3 billion.
The adjusted contract, in which CNPC will receive a fixed fee for a barrel of oil instead of gaining an equity stake, as it would have done under the previous regime, would reduce CNPC's profits, in particular in an era of high oil prices, said He Wei, a senior analyst at Hong Kong-headquartered brokerage BOCOM International Co.
But he pointed out, "the oilfield is the biggest project for CNPC as a major operator in the oil-rich Middle East, which brought other qualified Chinese companies to participate in the big overseas projects.
Beijing-based Zhenghua Oil Co also signed a service contract to work in the Al-Ahdab oil field for 23 years.
CNPC's Jiang said the company will optimize its overseas structure and distribution of its foreign oil and gas assets against a background of the risks and challenges that arise when "going overseas", according to a statement posted on the company's website also on Monday.
CNPC's listed arm PetroChina announced on June 21 that it failed to reach an agreement for a C$5.4 billion ($5.46 billion) deal with Canada's Encana Corp to jointly develop a natural gas project in the North American country.