American energy giant ConocoPhillips defended its response to a pair of oil leaks off China's northeast coast and said Wednesday it would change procedures there if necessary to prevent future spills.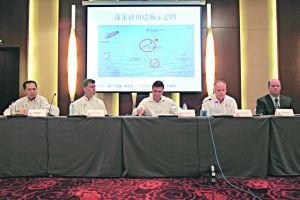 American energy giant ConocoPhillips held a press conference in Beijing  Wednesday. [xsnet.cn] 
The company's President Georg Storaker said at a news conference in Beijing, saying ConocoPhilips is the operator of the field and is responsible for today's operations in Penglai field.
He admitted the amount of oil that leaked from the Penglai 19-3 oilfield in China's Bohai Bay in June has not been fully assessed but he insisted the incident was not "comparable " to the high-profile spill in the Gulf of Mexico last year involving the oil giant BP.
He said the company will do all the work down the road together with its partner China National Offshore Oil Corporation (CNOOC) according to their contract.
The Houston-based company did not disclose the clean-up cost nor talk about possible compensation payments.
At the same time, eleven environmental organizations have sent an open letter to ConocoPhillips China and the China National Offshore Oil Corp (CNOOC) Ltd calling for a "full apology for the concealment of recent oil leaks and their failure to immediately disclose the specifics of the incidents."
The letter that was sent on Monday was jointly written by Green Beagle, Friends of Nature, the Center for Legal Assistance to Pollution Victims, Nanjing Green Stone, Green Han River, Red Phoenix Project, Green Watershed, Shanghai Healthy Consumers Purchasing League, Friends of Green in Tianjin, Green Anhui and the Institute of Public and Environmental Affairs.
The State Oceanic Administration said on Monday that the oil leak affected more than 840 square kilometers of Bohai Bay. It said about 70 cubic meters of oil and water was collected during the clean-up.
ConocoPhillips, which owns a 49 percent stake in the oilfield, said they had notified authorities of the slick on June 4 and its priority since then had been "clean-up work."
Hong Kong-listed CNOOC, China's biggest offshore oil producer by capacity, holds a 51 percent stake in the Penglai 19-3 oilfield.