The Norwegian mass killer, Anders Behring Breivik, has been expelled from the extreme rightist group Norwegian Defense League (NDL), according to a statement issued by the group.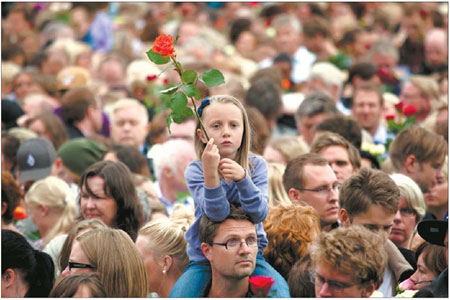 Up to 250,000 people gathered outside Oslo City Hall on Monday for a "rose march" in memory of the victims of Friday's bomb attack and massacre. While Anders Behring Breivik has admitted bombing Norway's capital and opening fire on a youth camp he has entered a plea of not guilty, saying he wanted to save Europe from Muslim immigration. See story on page 12. [Photo by Emilio Morenatti / China Daily via Agencies] 
The anti-immigration organization decided to throw Breivik out "because he is too extreme in his views," said Lena Andreassen, leader of the group on Tuesday.
After Friday's bomb explosion in Oslo and shoot-out on Utoeya, in which 76 people were killed and nearly 100 others wounded, "I'm just sad when I think that he has been with the organization," said Andreassen.
"I think he operated pretty much alone," she stressed.
NDL, a Norwegian branch of the England Defense League, surfaced in Norway in February 2011 when it planned a demonstration outside the Oslo Cathedral.