China Mobile joins Pakistani auction
China Daily, March 14, 2012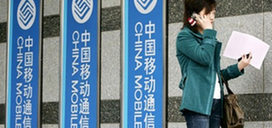 At the end of June, China Mobile Communications Corp had 369.7 billion yuan ($58 billion) in total current assets, including about 113 billion yuan in cash and cash equivalents. [File pohto]
China Mobile Communications Corp, the parent company of the world's biggest mobile operator by user numbers, has confirmed its participation in an auction of Pakistan's third-generation wireless spectrum.
With Pakistan as an example, the company intends to expand its operations to a greater number of emerging markets, according to Wang Jianzhou, chairman of China Mobile, in an exclusive interview with China Daily.
The company is also seeking opportunities to become a minority shareholder in telecom carriers in the European or North American markets, said Wang.
"We would like to be strategic investors (in them), which will help us achieve synergies," said Wang.
The company's decision to join the auction may help it strengthen its foothold in the fast-growing telecom market in South Asia.
Pakistan has been the only overseas market for China Mobile since it bought Paktel Ltd, a loss-making Pakistani carrier, for $284 million from Millicom International Cellular SA in 2007. The company was renamed China Mobile Pakistan, or CMPak, and its services were rebranded as "Zong" in 2008.
"If we succeed (in the auction), we will provide the Pakistani people with 3G services on a Wideband Code Division Multiple Access network, as the spectrums being auctioned are suitable for WCDMA technology," Wang said.
China Mobile's business in Pakistan is performing well, although CMPak is still only the fifth-largest telecom operator among the six players in the market, according to the company.
"More than four years ago, when we bought Paktel, it was on the brink of bankruptcy, but now the company can generate enough cash flow to maintain its operations," Wang said.
The Zong brand has seen the largest net growth in mobile users in Pakistan in the past three years, according to the Pakistan Telecommunications Authority. Zong had a user base of 13.2 million by October, rising from less than 1.5 million in 2007.
Earlier this month, Fan Yunjun, chief executive officer of CMPak Ltd, told the website of China Radio International that China Mobile has invested $1.5 billion in Pakistan to date.
Wang said one of the advantages for China Mobile in overseas business is that its subsidiaries will be able to leverage the parent company's economies of scale to reduce costs and maintain competitiveness. For example, China Mobile's procurement plan means that CMPak can buy cheaper equipment than its domestic rivals.
"We have the intention to expand overseas," Wang emphasized. The experience gained from its operations in China and Pakistan will boost the company's confidence in stepping into other overseas markets, especially in the emerging markets.
However, overstated prices have become a major obstacle to the mobile giant's ambitions of going global. "We saw opportunities, but the prices are far too high. That's why China Mobile has made little progress in overseas expansion in recent years," Wang added.
The company's other expansion focus is to make investments related to Time Division Long-Term Evolution technology.
The company is actively pushing for the homegrown 4G TD-LTE technology to be adopted worldwide. "If we find opportunities that will help the TD-LTE technology to go global, we will be interested," Wang said.
At the end of June, the Chinese company had 369.7 billion yuan ($58 billion) in total current assets, including about 113 billion yuan in cash and cash equivalents.
All three major Chinese operators have made tentative moves to expand overseas. In 2009, China Unicom (Hong Kong) Ltd, the nation's second-largest wireless carrier, agreed to a tie-up with the Spanish telecom company Telefonica SA, with each partner holding a stake in the other.
This year, China Telecom Corp, the nation's smallest telecoms operator, plans to start selling a wireless service to consumers in the United States. China Telecom may even consider building or buying its own wireless network in the US, the company said.
"The domestic telecom market is competitive and has little room for rapid growth. The situation has pushed Chinese operators to expand overseas, especially in the emerging markets, where the market for wireless services is about to take off," said Chen Jinqiao, a researcher with the Ministry of Industry and Information Technology.