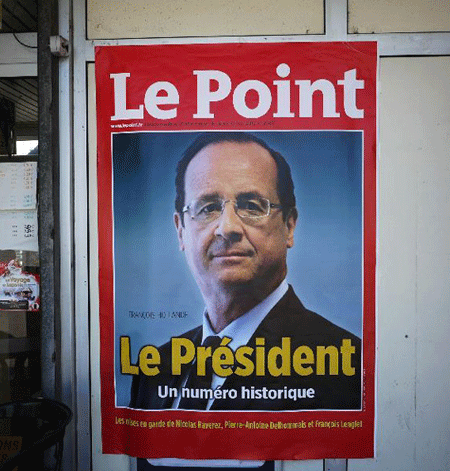 A poster of French magazine "Le Point" shows France's newly elected President Francois Hollande in Brive-La-Gaillard, southern France, May 7, 2012. [Xinhua] 
It would be a mistake to interpret the election of France's socialist presidential challenger, Francois Hollande, as portending a seismic shift for Europe's second-largest economy.
All indications are that Hollande doesn't owe his victory to any passion among the electorate for a sweeping left-leaning platform. The defeated incumbent, Nicolas Sarkozy, is merely the latest leader felled by Europe's economic crisis and the lassitude of its citizens.
However different their images, the two candidates were never all that far apart on substance. Both have recognized that no pain-free solutions exist for France's, and Europe's. Both have vowed to defuse the time bomb of the country's record 1.7 trillion-euro (US$2.2 trillion) debt. And both correctly said that one of their top priorities would be to bring down the unemployment rate, which is at a 12-year high of 9.8 percent.
The turnover in the Elysee Palace, however, is far from meaningless. It could have a salutary effect by forcing Germany to abandon its obstinate insistence on the drastic austerity measures that have driven economies from the Netherlands to Spain back into a recession.
Hollande has made clear that he will be less compliant than Sarkozy in the face of Germany's demands. He has promised to renegotiate the fiscal pact agreed by European leaders in March, and to temper its emphasis on budgetary discipline with measures aimed at spurring growth.
Hollande also has said he will push Germany to agree to measures that could boost short-term growth, whether allowing the European Central Bank to act as lender of last resort or issuing euro-area bonds jointly backed by all the currency union's members. Germany, Hollande said in an interview published by Slate yesterday, "cannot block both," as it has done until now.
The new French leader is right to insist that Germany back down from its single-minded insistence on punitive spending cuts in the euro area. Spain and Greece, for example, need more time to bring down their debt. The requirement in the March budget pact that they slash education, research and development, and other spending is a prescription for prolonging the crisis. In the Slate interview, Hollande correctly pointed out that if the austerity measures aren't supplemented with some pro-growth policies "it will be difficult, if not impossible, to reduce deficits and keep debt in check."
Any fresh European economic packages should also recapitalize its troubled private-sector banks so they can begin lending again. Germany has refused to give ground here, too. Prodding from Hollande could break the deadlock.
Hollande hasn't been given a mandate to transform France, but to save it from disaster. A poll last week showed that 62 percent of French people think that in coming months or years France could be in the same perilous situation as Greece or Spain are today. The French people may have voted against the harshest forms of austerity, but they, and Hollande, know that reckless spending, protectionism and denial about the unsustainable path of France's social welfare state aren't the way to avoid Greece's fate.
Max Berley and James Gibney are editors of the Bloomberg View column at Bloomberg News. Shanghai Daily condensed the article.