At least 17 people, including children, were killed and scores of homes destroyed as mudslides hit Southern California, still reeling from the impact of devastating wildfires, local authorities said Wednesday.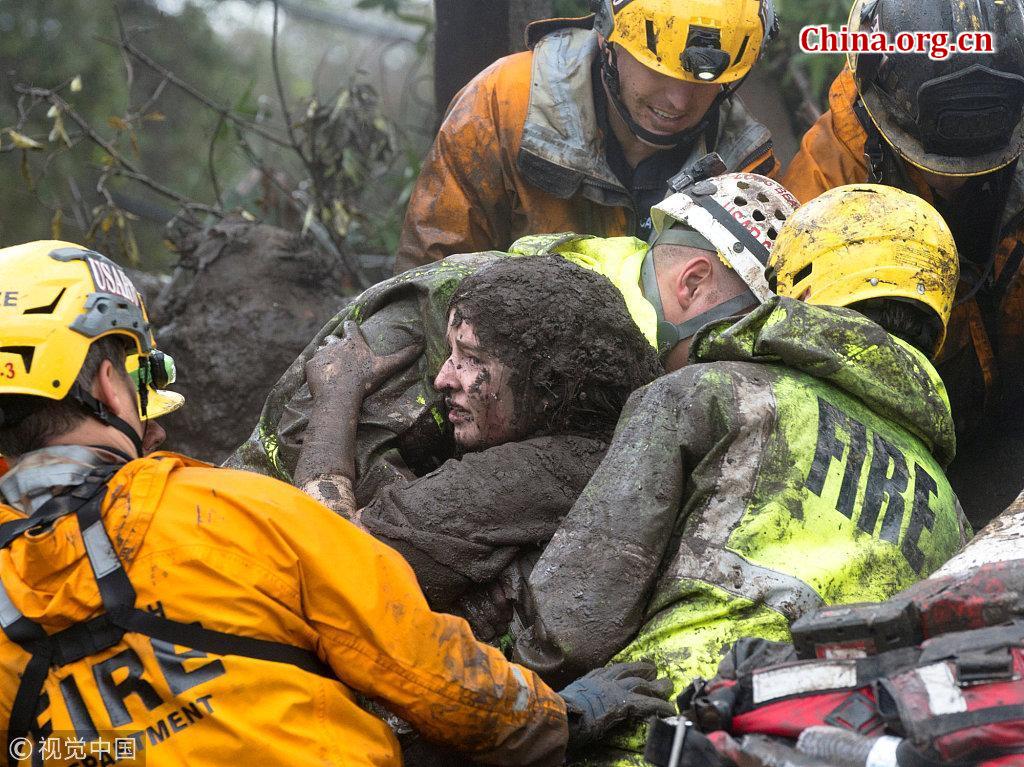 A strong winter storm hammered the region on the U.S. West Coast Monday, bringing in heavy downpours and triggering deadly mudflows before dawn on Tuesday.
As heavy rains lashed the charred hillsides of Santa Barbara County Tuesday, rivers of mud and massive boulders crashed into residential neighborhoods, leaving more than a dozen dead and several injured.
Hundreds of firefighters and others are still searching for survivors in the mud and wreckage. The authorities said about 75 percent of the devastated area has been searched.
Three people were rescued Wednesday while two more bodies were discovered, raising the toll to 17, Santa Barbara County Sheriff Bill Brown said.
The names of the dead have not yet been officially released.
Thirteen people are still missing, officials said. The U.S. Coast Guard said they used helicopters Tuesday to rescue people from rooftops.
Most of the Southern California deaths occurred in and around Montecito, a wealthy enclave of about 9,000 people northwest of Los Angeles.
TV footage from local media showed toppled trees and swept-away cars in the Montecito area. Multiple houses were ripped out from their foundations.
An evacuation order was issued recently near the burnt-down areas of Santa Barbara, Ventura and Los Angeles counties.
Santa Barbara authorities had also put up an interactive map on the county's official website, showing the areas most at risk for flash floods and debris flows. Residents could key in their address and see the position of their house relative to the flood zones.
But only an estimated 10 to 15 percent in the mandatory evacuation area heeded the warning, the authorities said.
Just a few weeks earlier, the area had suffered wind-driven wildfires, including Thomas Fire, the largest wildfire on record in the state.
The raging fires not only burnt things aboveground but also physically altered the ground itself.