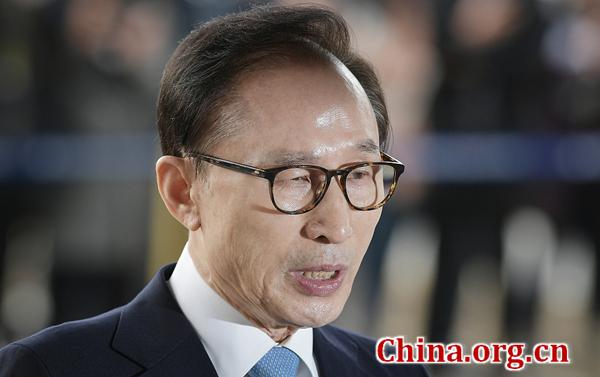 Former President of the Republic of Korea (ROK) Lee Myung-bak on Wednesday appeared before state prosecutors for questioning over a string of corruption charges including bribery, becoming the latest ROK leader to be investigated.
Lee, who ended his five-year presidential term in February 2013, appeared in the Seoul Central District Prosecutors' Office Wednesday morning as a "criminal suspect," local TV footage showed.
Before going inside the prosecution office, Lee read a brief statement to say sorry for worrying the people of the ROK. He hoped that he is the country's last president in history to be investigated by prosecutors.
Former conservative President Park Geun-hye, Lee's successor, was removed from office last year for an influence-peddling scandal involving her longtime friend Choi Soon-sil.
Park was grilled by prosecutors in March last year and taken into custody later in the month. She is now standing trial, with prosecutors requesting 30 years in jail. A Seoul court is set to hand down a ruling next month.
Lee was reportedly being questioned at the same room of the prosecution office as the one for Park a year ago, on allegations that he had received tens of millions of U.S. dollars in bribes from the country's intelligence agency and big companies including Samsung Electronics.
Samsung is believed to have paid retaining fees, on Lee's behalf, in the United States for DAS, a ROK auto parts maker which Lee allegedly owns under the names of his relatives.
DAS is under investigation for embezzlement and creating a slush fund, which is believed to have been funneled into Lee for his presidential campaign.
In return for the legal fee offer, Samsung Electronics Chairman Lee Kun-hee is believed to have bought a presidential pardon in 2009 when the Samsung chairman, currently in hospital, had got a suspended jail sentence for tax evasion.
The National Intelligence Service, the country's spy agency, is believed to have delivered secret operation fund to Lee's office at his behest through his closest aides, some of whom already admitted the allegation.
Prosecutors raided the offices and homes of Lee's relatives and aides, many of whom were summoned for grilling.
Lee is also suspected of dodging taxes through accounting fraud in the DAS and by owning real estate assets and bank deposits under borrowed names.
Prosecutors reportedly planned to seek an arrest warrant for Lee as early as this week. By law, one who is convicted of bribery amounting to 100 million won (about US$94,000) is subject to a minimum of 10 years in prison.
According to the Realmeter poll earlier this month, seven out of 10 South Koreans said Lee should be arrested for a criminal investigation. Lee has denied all charges levied on him.