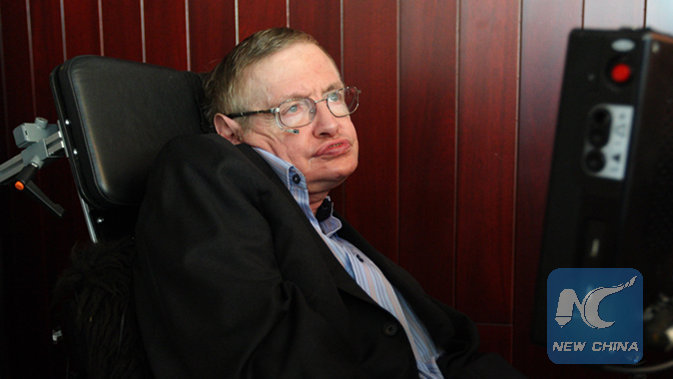 Renowned British physicist Stephen Hawking died peacefully at home in the British university city of Cambridge in the early hours of Wednesday at the age of 76, his family spokesman said.

"We are deeply saddened that our beloved father passed away today," his children Lucy, Robert and Tim said in a statement.
"He was a great scientist and an extraordinary man whose work and legacy will live on for many years," his family said. "His courage and persistence with his brilliance and humor inspired people across the world ... We will miss him forever."
Hawking, a legendary figure in the modern history of physics, is known for his work with black holes and relativity, and has authored several best-sellers on science, despite being bound to wheelchair after contracting a motor neurone disease in 1963 at the age of 21.
He broke new ground on the basic laws which govern the universe, including the revelation that black holes have a temperature and produce radiation, now known as Hawking radiation.
At the same time, he also sought to explain many of these complex scientific ideas to a wider audience through popular books, most notably his bestseller A Brief History of Time, according to an obituary posted on the University of Cambridge's website.
Professor Hawking was the Lucasian Professor of Mathematics at the University of Cambridge between 1979 and 2009, after which he worked as director of research at the Cambridge University Department of Applied Mathematics and Theoretical Physics until his death.
(Xinhua contributed to the story)