As Chinese President Xi Jinping embarks on his first state visit to the United States on Sept. 22, ten prominent political figures and scholars in the United States voiced their expectations of the visit and their views on relations between the world's two largest economies.
1. Henry Kissinger: Secretary of State in the administrations of Presidents Richard Nixon and Gerald Ford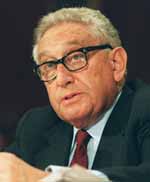 Henry Kissinger [File photo]
"I have had many conversations with President Xi. He is a man of great determination, who has strong lessons from the experiences of his life, and so I think he is among the rank of the most significant of China."
"China will be growing, whether we accept it or don't accept it. And it is a reality. So, therefore, of course we should accept China becoming what its population and its resources entitle it to be. That should not even be a debate. We are obliged to work together."