Chinese President Xi Jinping paid a state visit to the United States on Sept 22-25, during which President Xi held thorough, frank and constructive talks with U.S. President Barack Obama. The two presidents reached a consensus on various topics, including the new type of relations between China and the United States, bilateral pragmatic cooperation, Asia-Pacific affairs, international and regional issues, as well as global challenges.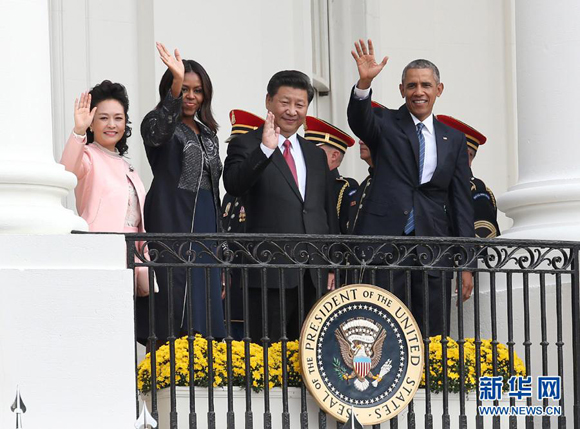 Chinese President Xi Jinping and his wife Peng Liyuan attend a welcome ceremony at the White House during their visit to the United States on Sept. 25, 2015. [Photo/Xinhua] 
President Xi's U.S. visit will directly influence the life of the Chinese general public in seven ways.
1. Boosting tourism
The two countries declared to set 2016 as the "China-U.S. Tourism Year," a cooperation on tourism aimed to expand tourist exchanges. The annual project will include a series of activities to promote more trips and a more open tourism market, so that tourists to either country will enjoy higher quality travel experiences.
On a separate topic, the two countries will continue to discuss the yuan's settlement and liquidation mechanism in the United States.
2. Food safety protocol
China and the United States cemented cooperation regarding inspection and quarantine, which will ensure food safety in the bilateral trade of agricultural products. China's General Administration of Quality Supervision, Inspection and Quarantine and the U.S. Department of Agriculture signed a deal on the hygiene standard of dairy products for industrial purposes. The two parties also agreed to facilitate bilateral trade on food and agricultural products.
In other fields, the two countries agreed to conduct cooperation on the detection of greenhouse gases and on precision medical services, beneficial to environmental protection while helping to raise people's health and livelihood.
3. Disease prevention
The two countries hailed the exchanges and cooperation in the health field, noting that chronic diseases have become a major issue in both countries, and that the cooperation on tobacco control and the reduction of sodium intake have been fruitful. The two governments agreed to engage in further cooperation on the prevention of chronic diseases by means of high-level forums, academic exchanges and people-to-people exchanges.
The United States will continue to support China's efforts to facilitate non-smoking workplaces, the control of heart disease, cancer, diabetes and the issues associated with an aging population. Following the joint efforts, the national health authorities of both countries will seek to hold the first China-U.S. forum to encourage the idea of a healthy city.
In an MoU, the two governments agreed to continuously support the global combat of HIV/AIDS, tuberculosis and malaria.
4. Film and TV industries
China Film Group and the Motion Picture Association of America inked a deal that will facilitate the cooperation of either country's film industry. In simple words, Chinese people will have easier access to Hollywood blockbusters. China Media Capital and U.S. Warner Bro. Entertainment will establish a film production and publishing company in Hong Kong. The China State Information Office inked deals with National Geographic and the Walt Disney Company, and as a result, Chinese photo exhibitions will be held in the United States, and Chinese documentaries will be aired by U.S. TV networks, while Chinese pavilions will also likely be established in Disney Land.
5. Cyber security
China and the United States agreed to provide timely responses to each other's requests for assistance regarding malicious cyber activities. The two countries agreed to deepen cooperation on collecting electronic evidence, the reduction of malicious cyber activities and probing cybercrimes based on their own laws and international commitments.
Both governments agreed to form a high-level joint dialogue mechanism on combating cyber crimes, among other issues. Ministerial leaders from both countries will head the dialogues, in which law enforcement and intelligence agencies from both countries will participate. Under the plan, a hotline will be set up to prevent the escalation of such issues during the response process.
The first dialogue will be launched this year. Starting next year, two such dialogues will be held.
6. Education exchanges
China announced that it would fund a total of 50,000 Chinese and American students to study in each other's country in the next three years, while the United States will put up to one million American students in Chinese language courses before 2020.
The two sides will launch cooperation on college think tanks, strengthen cooperation between educational agencies and higher educational institutes.
7. Investment environment
The United States pledged to welcome all foreign investments, including those from China. In detail, the United States said it would maintain an open investment environment to Chinese investors, including those from the state-owned sector. The United States reiterated its open policy on investment and its commitment to fairness regarding all potential investors. The two countries promised to continue dialogues on bilateral investments to seek growth.