The choreography was superb and the athletes looked like they could fly through the air. Each performance was started with the signature "Palm and Fist Salute." It is an important display of martial arts principles.
The appraisal of the Wushu levels of practitioners in China is called the Wushu Duan System. It is made of levels one through three for the elementary level, four to six for intermediate, and seven to nine for advanced. Nine is the highest level.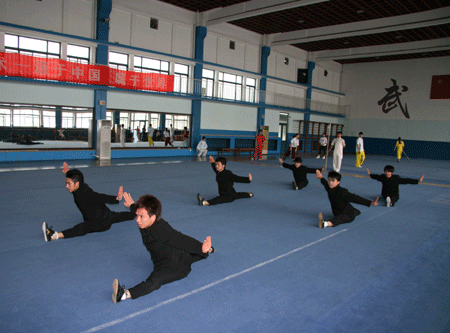 The wider body of the sport, the International Wushu Federation, was established in Beijing in 1990. It was accepted at the 28th Congress of the General Association of International Sports Federations in 1994 and the International Olympic Committee in 1999. Currently there are 144 member federations from different countries and regions across six continents.
One of the goals of the Chinese Wushu Association (CWA) is to conduct international exchanges. Each year CWA delegates visit across the world to promote the sport and activities. Beyond purely cultural exchanges the Chinese governing body has also offered aid and humanitarian assistance.
We chat with two of the athletes that will be present for the games to ask them about their Wushu practices:
China.org.cn: That was a great performance, what is your name and how long have you been practicing Wushu? Do you have any family in the sport?
Ma Lingjuan: My name is Ma Lingjuan and I come from central China's Anhui Province. I'm 21 years old. I have been training for more than 11 years. My father is a Wushu addict and he deeply influences me. At an early age, I began to love the martial arts.