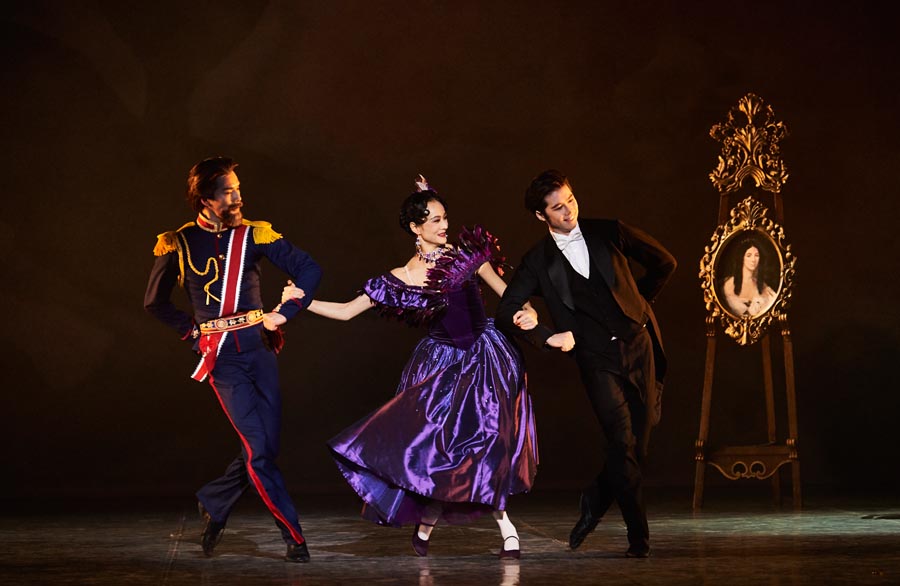 Scenes from the Shanghai Ballet's new production The Lady of the Camellias. [Photo provided to China Daily]
The city's renowned dance company hopes their new production Lady of the Camellias can be one that lives on for the ages, Zhang Kun reports.
The Shanghai Ballet's new production The Lady of the Camellias premiered at the SAIC Shanghai Culture Square on Saturday, winning praise from several industry experts.
Zhao Ruheng, the former director of the National Ballet of China, praised the performance of the ballerinas and their understanding of theater.
"I have been following the news about the Shanghai Ballet," Zhao says. "This is a professional company who don't just show off their dance techniques, but also reach for further artistic expression and excellence.
"I see the whole company continuously pushing forward. I've watched some of the kids there grow from one competition to the next. They have developed so rapidly that I can hardly keep track."
Zhao also singled out lead ballerina Qi Bingxue as one of the dancers who impressed her the most, saying the ballerina has improved tremendously since she first saw her perform at the third Beijing International Ballet Competition in 2015.
Created by British choreographer Derek Deane and based on the novel by French author Alexandre Dumas (1824-1895), the ballet was part of the program at the China Shanghai International Arts Festival.
The Lady of the Camellias has been a popular subject for theater since it debuted in 1848. Dumas was the first to adapt the story for the stage in Paris in 1852. Following its success, composer Giuseppe Verdi put the story to music, creating the opera La traviata, in which the heroine's name changed from Marguerite Gautier to Violetta Valery.
"Every ballet company dreams about staging its own version of this literary classic, and we wanted to create a fine production that stands out from others, one that can live on the stage for a very long time," says Xin Lili, head of the company.