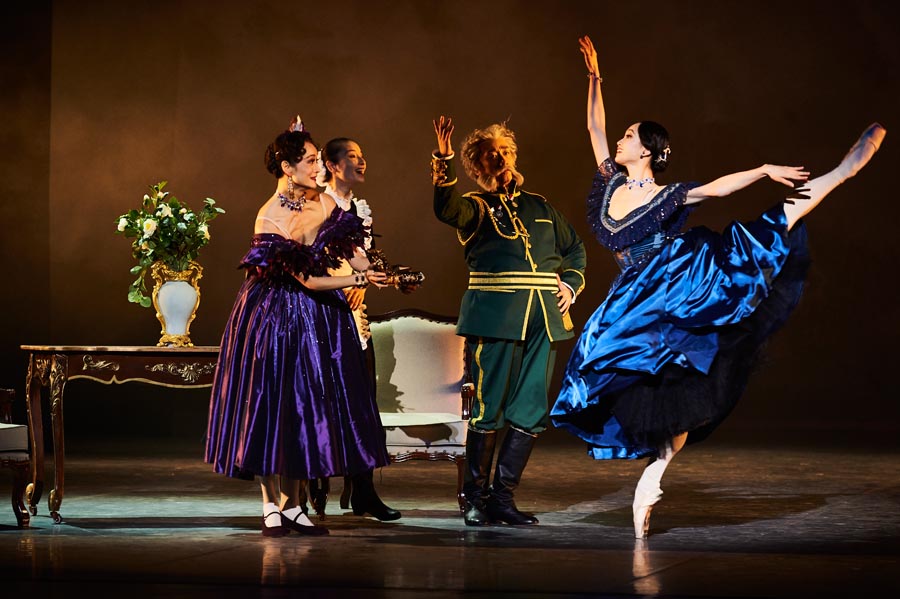 Scenes from the Shanghai Ballet's new production The Lady of the Camellias. [Photo provided to China Daily]
Two more performances of the new production will take place at the Shanghai International Dance Center on Nov 29 and Dec 1. The ballet is also scheduled to tour Australia in April before its appearance at the National Center for Performing Arts in Beijing in June. There will be 30 shows staged during its global tour.
"We will be celebrating the 40th anniversary of the Shanghai Ballet next year. We hope Camellias will be a new addition to our repertoire, which represents the artistry and professional level of a company in the global dance community," says Xin.
Playing the lead role of Marguerite, a courtesan who falls in love with Armand, a young bourgeois, Qi says preparation for the role proved challenging.
"I put a lot of effort into relating to the character. There is so much going on in her mind that it was difficult for me to catch. I tried to understand her better by reading the book and watching film adaptations," says the 23-year-old.
On the other hand, Wu Husheng, the lead dancer with the Shanghai Ballet who played Armand, says playing the role was an enjoyable and relaxing experience.
"I just wanted to give the audiences my best performance when the curtains came up for one of the last shows of the China Shanghai International Arts Festival. I am glad I did it," said Wu, who performed despite hurting his lower back just two days before the premiere.
"These sudden injuries are hard to avoid, because we are dancing on a daily basis," he says, adding that Qi, who he frequently plays pas de deux with, was instrumental in helping him to ensure the performance went smoothly.
Deane, the 66-year-old acclaimed British dancer and choreographer who has in the past 14 years created six productions with the Shanghai Ballet, explained his approach to portraying Marguerite in the production.
"I was intrigued by all the characters, especially Marguerite. She is a complicated character and I thought that it was important to bring out her many facets, including her calculating and fickle side. She understands love is one thing and survival is another," he says.