Editor's note: The Wangchuan ceremony, rituals, and related practices for maintaining a sustainable connection between man and the ocean were added to UNESCO's Intangible Cultural Heritage list in January 2020, becoming China's 42nd entry on the list. China and Malaysia jointly applied for this entry.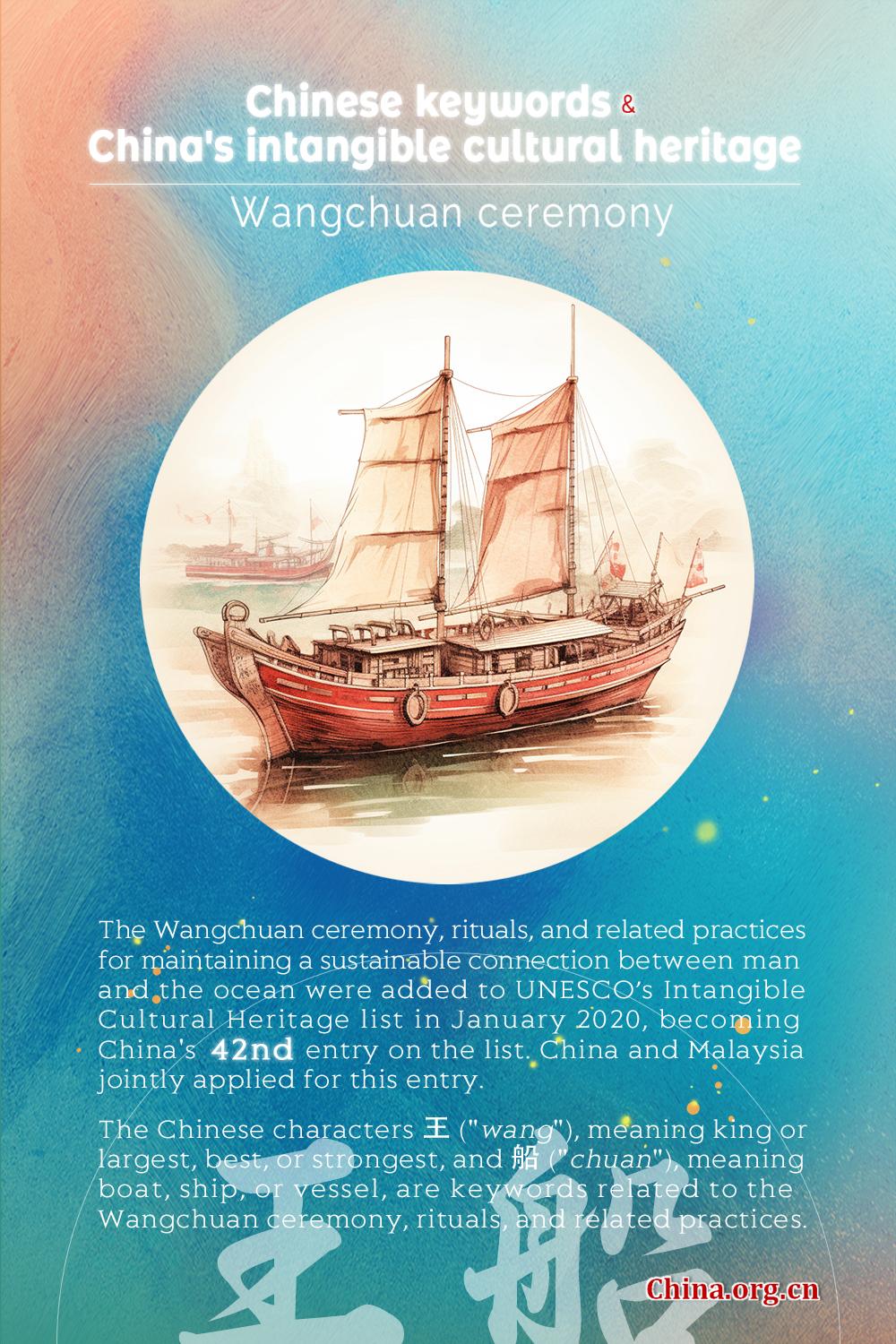 The Chinese characters 王 ("wang"), meaning king or largest, best, or strongest, and 船 ("chuan"), meaning boat, ship, or vessel, are keywords related to the Wangchuan ceremony.
The Wangchuan ceremony is rooted in folk customs worshipping Ong Yah, a deity believed to protect people and their land from disasters.
With a history of over 600 years, the tradition originated from southeast China's Minnan region, where in ancient times, local inhabitants mostly depended on the sea to make a living and often prayed to the deity for peace and prosperity for their life and land.
Those who died at sea are considered "good brothers" who become lonely and homeless souls. Therefore, the ceremony gathers people on the coast to welcome the deity to temples or clan halls, with lamp poles erected to summon "good brothers" and deliver them from torment. The tradition has been seen as "doing good deeds" and also carries local people's wishes for safe voyages and a better future.
The ceremony, which can last anywhere from several days to even a month, is usually held every three to four years on an auspicious day and features grand performances. The highlight is the welcoming of the deity to a wooden barge so that it can visit temples or clan halls. Other performances include local operas and dramas, dragon and lion dances, and puppet shows, among others.
The tradition is now centered in the coastal areas of southeast China's Xiamen and Quanzhou bays as well as among Chinese communities in Melaka, Malaysia.
As UNESCO states, this tradition evokes the historical memory of ancestors' ocean-going journeys, reshapes local people's social connections in face of difficulties and emergencies such as shipwrecks, and honors the harmony between man and the ocean. It also bears witness to intercultural dialogue between communities.
Find out more about China's intangible cultural heritage and their keywords:
China's 43rd UNESCO's ICH element: Traditional tea processing