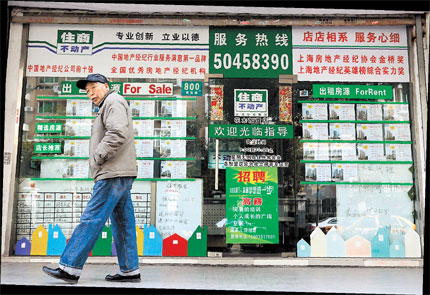 A pedestrian walks past a real estate brokerage in the city's Pudong New Area. [Shanghai]
While the soaring price of housing nationwide remains one of the hottest topics among deputies at the annual session of the National People's Congress in Beijing, turnover in Shanghai's property market has been suffering a bad case of winter chills.
Sales of new homes, excluding those designated for relocated residents under urban redevelopment plans, plunged 54 percent to 320,000 square meters in February, the smallest volume registered by Shanghai Uwin Real Estate Information Services Co since it began to track the local market in 2005.
The second consecutive monthly decline of more than 50 percent occurred after the central government clamped down on bank lending, with anxiety afoot that further credit-tightening will follow if the property bubble doesn't show some significant signs of shrinkage.
"Transaction volume of new homes in the first two months of this year was the lowest over the past few years, though the beginning of a year is usually a slack season for home sales in the country due to the Lunar New Year holiday," said Lu Qilin, a researcher at Shanghai Uwin. "Unyielding prices and low supply, coupled with uncertainties about whether the government will continue to implement policies to cool down the overheated real estate market, contributed to the current freeze in buyer sentiment."
Soaring housing prices have created a dilemma for the government, which has been trying to stimulate the economy through looser credit but doesn't want to create bubbles that could pop and threaten growth.
Among the suggested remedies making the rounds at the current joint session of China's legislature and its National Committee of the Chinese People's Political Consultative Conference is changing the land-auction system so that price isn't the only determining factor. Also being discussed are ways to reduce local governments' excessive reliance on revenue from land transfers.
More than 1.08 trillion yuan (US$158 billion) was collected from land transfers in 70 major Chinese cities last year, an increase of 140 percent from 2008, according to China Index Academy, a major real estate research organization.
Stubbornly buoyant
Despite lower sales volumes in Shanghai, prices have remained stubbornly buoyant. In February, the average price of new homes in Shanghai slipped 1.3 percent from January to 19,696 yuan a square meter, but that decline mostly reflected sales of more homes in cheaper outlying areas of the city.
According to Uwin research, the volume of new homes located beyond the Outer Ring Road more than doubled in February, accounting for 28 percent of the total sold. That was up 16 percentage points from January.
The high prices, especially in inner city districts, have been propped up by shortage of supply. Many real estate developers have been more reluctant to put their homes on the market amid sluggish consumer sentiment. New home supply plunged 70 percent to 220,000 square meters last month, following a dive of 47 percent in January, according to Uwin statistics.
The secondary market suffered a similar setback, leaving most estate agencies staring at red ink.
Transaction volume of existing properties, mainly houses, plunged 57 percent in February from a month earlier to 5,000 units across the city, the lowest since 2006. That followed a 60 percent drop in January, according to Century 21 China Real Estate, operator of the city's second-largest property agency.
The lower volumes, however, were accompanied by the highest average prices on record. Last month, the average price of existing properties rose 11 percent from January to 15,200 yuan per square meter, the first time prices have climbed above the 15,000 yuan mark, Century 21 China Real Estate said.