Agricultural Bank of China (ABC) may price the Shanghai portion of its mega float between 2.7 yuan and 3.3 yuan per share, sources close to the underwriters for the deal said on Wednesday.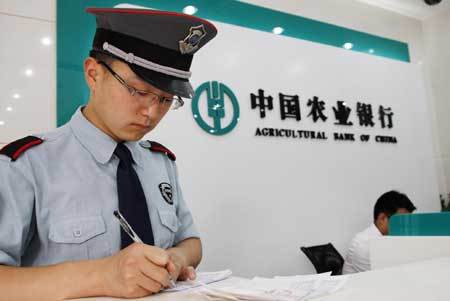 A customer at Agricultural Bank of China's Huaibei branch in Anhui province. The bank plans to sell up to 56.3 billion shares in a dual listing in Shanghai and Hong Kong. [China Daily]
The Beijing-based bank wrapped up price consultations with potential investors on Wednesday and sources said several institutional investors have agreed to buy into ABC with a total investment of over $5 billion.
Sovereign funds from the Middle East have taken a big slice of ABC's upcoming share sales, with Qatar Investment Authority and Kuwait Investment Authority buying $2.8 billion and $800 million worth of H shares respectively, a source, who declined to be named, told China Daily.
"Capital-rich sovereign funds from the Gulf are keen on ABC's offering, as they prefer long-term investments and have reaped decent returns from their earlier investment in other Chinese lenders," he said.
The source said the existing shares owned by the bank's current shareholders, namely, the Ministry of Finance, Central Huijin and the National Social Security Fund would be listed as part of the Shanghai portion, and will not be transferred to the Hong Kong market, as there are no overseas strategic investors.
Other investors include Standard Chartered, Netherlands-based Rabobank, Australian media and investment company Seven Group Holdings, Singapore sovereign fund Temasek and a couple of Hong Kong tycoons.
China Life Insurance is likely to invest $800 million in the bank, and may also be one of the largest buyers of ABC's A shares, sources said.
Overseas investors are keen on Chinese banking shares as the sector is vital for strong economic growth. But the recent market turmoil and concerns over the rural finance-focused ABC's profitability and asset quality have dampened investor enthusiasm for the share sale.
The lender's Hong Kong float will be priced higher than HK$2.8 per share, 21st Century Business Herald said on Wednesday quoting ABC Vice-President Pan Gongsheng.
The indicative price-to-book ratio recommended by the lead underwriters for Shanghai tranche ranged between 1.8 and 2.2, while its listed State-run peers such as Industrial and Commercial Bank of China (ICBC) and Bank of China were traded at 1.97 and 1.65 times their book value on Wednesday in Shanghai.
ABC, the country's largest lender in terms of retail networks, plans to sell up to 56.3 billion shares, accounting for nearly 17 percent of its total shares, in a dual listing in Shanghai and Hong Kong. If the overallotment options in the two cities are excluded, it will issue 47.6 billion new shares, or 15 percent of its enlarged capital base.
Though there were doubts that ABC's float may be smaller than expected due to the weak market sentiment, it is quite possible that the bank can overtake the ICBC float of 2006 if it fixes the offer price at over 2.7 yuan per share.
The bank said in its earlier prospectus that it will announce its IPO price on July 7 and start taking subscriptions on July 1. Its A shares are expected to debut on July 15 in Shanghai, while the H shares may debut a day later on July 16 in Hong Kong.