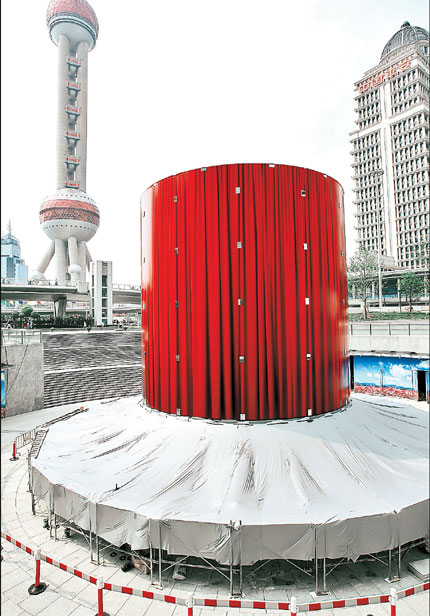 Preparations are under way at the first Apple Store in Shanghai yesterday. Apple will open the store in the Lujiazui area in Pudong New Area on July 10. [Shanghai Daily]
Apple will open its first Apple Store in Shanghai in Pudong New Area on July 10 as the culture-changing company, designer of the iPhone and iPad, bids to penetrate its footprint on the Chinese mainland, Shanghai Daily learned Wednesday.
The Pudong store is one of two new stores opening in Shanghai in the summer and counts among the 25 new Apple Stores that the company's Chief Operating Officer Tim Cook said would open on the mainland by the end of 2011.
Apple's new store, located at the foot of the International Finance Center in Pudong's Lujiazui area, features the second underground design of a 44-meter-tall glass cylinder, which is also in Apple's flagship New York City store on Fifth Avenue. The Shanghai store will display 85 Mac computers, 100 iPods and 50 iPhones for customers to try out. The store will become the company's 295th retail outlet globally, according to Ron Johnson, Apple's senior vice president of retail.
"We believe this store has the potential to be one of the busiest stores in the world," Johnson said during a one-on-one interview with Shanghai Daily.
Different from resellers, Apple Stores are directly operated by Apple with special free services such as product hands-on experience and customization, training as well as technical support.
Generally speaking, Apple often uses the stores to launch the latest products to local markets, which could mean the iPhone 4 and iPad may be launched on the mainland at the Shanghai store in future. But Johnson denied the products would debut at the Shanghai store's opening ceremony. But Apple launched the iPhone on the mainland at the Beijing store in Sanlitun in October. The Shanghai store is the second Apple store on the mainland.
Globally, Apple Stores in New York, London, Sydney and other cities contributed US$6.6 billion last year, one-sixth of the company's total revenue of US$36.5 billion in 2009. The average annual revenue of an Apple Store came to US$26 million but the volume of stores in "big cities" was higher than that.