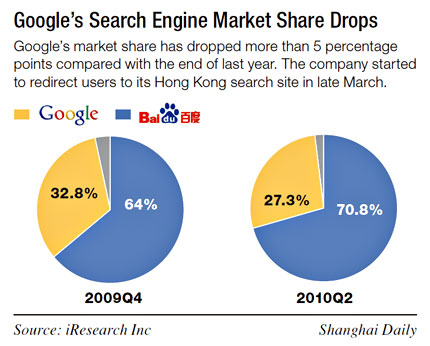 Google's share of the search engine market in China fell in the second quarter while Baidu's share soared to over 70 percent, latest figures show.
Market revenue of the Chinese search engine surged 38.5 percent from the same period last year to 2.64 billion yuan (US$389.6 million) in the second quarter, according to a report released by Internet consultancy iResearch Inc on Monday.
Google had a 27.3 percent market share in the second quarter, down from the 29.5 percent in the previous quarter.
Baidu's share rose to 70.8 percent from 67.8 percent in the first quarter, the first time it has exceeded 70 percent.
Total online advertising revenue jumped 34 percent year on year to 8.52 billion yuan.
Display advertisements account for 43 percent of the total online advertising spending with search engines taking up 31 percent and the rest taken up by video content and other forms of advertising.
"Baidu is gradually transferring to the new Phoenix Next system which helps better track online advertising and has found more favor with advertisers, which has helped consolidate its leading position," iResearch said in the report.
Baidu is set to release second-quarter earnings on Thursday and its earlier forecast is between US$268.1 million to US$274 million.
In the fourth quarter of 2009, Google's market share was 32.8 percent versus 64.8 percent for Baidu.
In late March, Google began redirecting users to its Hong Kong search site but kept music, online maps and other services on China's mainland. Some online advertising agencies then moved to other search engines to market their brands, including Baidu, Tencent's Soso and Sohu's Sogou.
Earlier this month, the Ministry of Industry and Information Technology renewed Google's Internet Content Provider license to ensure it can continue operating its website in China.