The International Monetary Fund (IMF) main policy committee on Saturday called on its managing director to report to it on progress on quota and governance reforms by the end of October.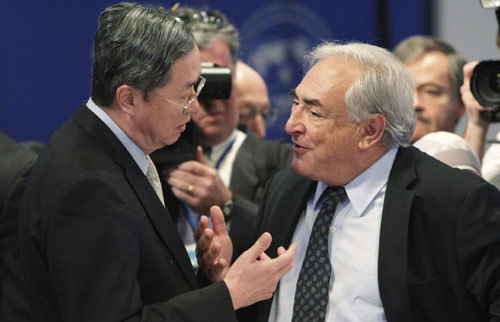 International Monetary Fund (IMF) Managing Director Dominique Strauss-Kahn (R) and Governor of People's Bank of China Zhou Xiaochuan chat at the beginning of the International Monetary and Financial Committee (IMFC) meeting at the IMF headquarters building in Washington Oct 9, 2010.[China Daily via Agencies]
"We reemphasize that quota and governance reforms are critical to institutional legitimacy and effectiveness," the International Monetary and Financial Committee (IMFC) said in a communique after concluding its 22nd meeting in Washington.
"We have made progress toward finding common ground on the core reform areas, and we are working actively to resolve outstanding issues," said the communique.
Accelerating the institution's quota reform to reflect the reality of the world economy, in which developing countries have in recent decades gained a great deal in terms of both GDP share and economic influence, has gained consensus among major economies. Still, countries differ on some specifics of the quota transfer.
Central bankers from 187 members of the IMF are gathering at the IMF and World Bank annual meetings this week to discuss global economic and financial challenges as well as the fund's quota and governance reform among other issues.
Shifting quota from advanced economies to emerging and developing countries is one of the major topics during the meetings.
Giving emerging economies a bigger say at the IMF would broaden its representation and boost global confidence but it should not be linked to taking greater responsibility in the global economy, Governor of the People's Bank of China Zhou Xiaochuan said Friday.
IMF Managing Director Dominique Strauss-Kahn said Friday the fund's balance of power was changing, reflected by changes in quota and chairs in the IMF.
The Intergovernment Group of Twenty-Four (G24), a grouping of 24 developing countries, on Thursday called for the IMF to accelerate its process to a bigger quota to developing countries.
Zhou said that he was confident that the IMF would meet its goal of completing the quota adjustment and structural reform before January 2011, as set at the G20 Pittsburgh Summit in 2009.