Editor's notes:
The US Federal Reserve announced on Nov 3 a second round of monetary stimulus, dubbed QE2, in its latest move to jump start the sluggish recovery of the US economy. It will buy long-term Treasurys worth $600 billion in the coming eight months, and reinvest $250 billion to $300 billion more in Treasurys with the proceeds of its earlier investments, the US central bank said.
The monetary policy is seen as a conflict between the international role and the domestic role of the US dollar.

HSBC warns downside risks in Asian economy
As Asian economy was barreling ahead, downside risks including higher interest rates in advanced economies and a slowdown in exports were still worth keeping an eye on, said HSBC in a research paper released late Monday. [Full story]
China questions over U.S. new monetary policy
China said Monday that it was concerned with and has questio about the U.S. new monetary policy, and will discuss it with the U.S. at the upcoming G20 summit in Seoul. [Full story]
•  QE2 may put huge pressure on emerging economies
•  Fed stimulus unlikely to benefit global economy
•  Fed's QE2 poses challenges to China
•  U.S.told to give 'explanation' for new monetary policy
Wall Street rallies on Fed stimulus plan
Wall Street rallied on Thursday as market sentiment was buoyed by the Federal Reserve's stimulus plan. The Fed said in its statement on Wednesday that it will purchase a total of $600 billion in long-term US bonds, $75 billion per month, by the end of second quarter of 2011, hoping to prop up the sluggish recovery. [Full story]
US Fed boosts markets
China's stocks reached a record-breaking seven-month high, in line with the upsurge in world stock markets stimulated by the flood of cash from the US Federal Reserve. [Full story]
•   Wall Street slumps on global concerns
Addiction to cheap money
The fresh round of quantitative easing launched by the US Federal Reserve Board (Fed) shows that the world's biggest economy, instead of abstaining, has become even more addicted to abnormally cheap credit. [Full story]
No winner in a currency war
Shifting public debts to other countries, blocking Chinese investments and limiting exports will affect global recovery. It seems a wise decision by the Treasury Department of the United States to hold off releasing its semi-annual report to the Senate, thus delaying a decision on whether to brand China as a currency manipulator. [Full story]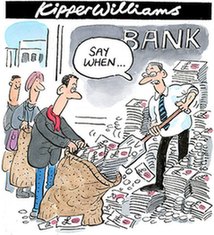 What is quantitative easing?
Quantitative easing (QE) is a monetary policy used by some central banks to increase the supply of money by increasing the excess reserves of the banking system, generally through buying of the central government's own bonds to stabilize or raise their prices and thereby lower long-term interest rates.
This policy is usually invoked when the normal methods to control the money supply have failed, i.e., the bank interest rate, discount rate and/or interbank interest rate are either at, or close to, zero. It has been termed the electronic equivalent of simply printing legal tender. (Source: Wikipedia)