An oil pipeline linking Russia's far east and northeast China started operating Saturday.
At 11:50 a.m., Yao Wei, general manager of Pipeline Branch of Petro China Co., Ltd. (PBPC), pushed a button in the China-Russia border county of Mohe in Heilongjiang Province, marking the official start of operations after a two-month trial.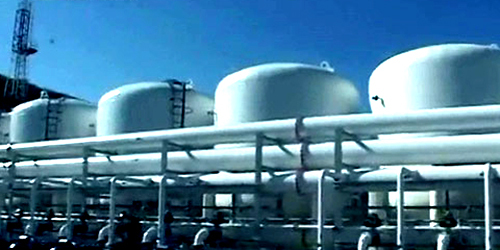 The new oil pipeline between Russia's East Siberia and China's city of Daqing starts operation on Jan. 1. 2011. [Photo from CCTV]
PBPC is the operator of the Chinese section of the pipeline.
"The operation of the China-Russia crude oil pipeline is the start of a new phase in China-Russia energy cooperation," Yao said.
He said the pipeline will improve the nation's energy-imports structure and promote economic development.
The energy sector has been a core of Russia-China cooperation, and the launch of the new oil pipeline between Russia's East Siberia and China's city of Daqing would be significant to the global energy market, a Russian expert told Xinhua on the last day of 2010, or on the eve of the pipeline becoming operational on Jan. 1, 2011.
Sergei Luzyanin, deputy director of Moscow's Far East Institute, noted that the project would influence the shape of the global energy market and change the flow of global energy supply and consumption.
"Russia, as a largest energy producer, turns its head from West to East. This had happened the first time in decades. Europe can not compete with China in terms of investments into Russian economy," Luzyanin said.
In recent years, Russia has been largely dependent on European consumers for its oil export and is seeking alternative markets. Now China becomes a new choice.
"Opening of the new pipeline makes China a transit route between Russia and Asia, as China doesn't only consume energy commodities, it also re-exports them," Luzyanin said.
The pipeline, a joint project conducted by PetroChina, China's largest oil and gas producer, and Rosnef, Russia's largest oil company, is part of Russia's 4000-km East Siberia to Pacific Ocean Pipeline Shipment project.
Russian Prime Minister Vladimir Putin said in August that Moscow aims to provide 30 million tons of crude oil to the Asia- Pacific region per year and plans to raise that amount to 50 million tons per year in future.
As for China, the Russia-China pipeline is designed to transport 15 million tons of crude oil per year from 2011 to 2030, though it is able to ship twice the amount when it runs at full capacity.
China, the world's biggest emerging economy, relied on imports to meet its 388 million tons of crude oil consumption needs in 2009, according to official data.
Mutual needs also bring new opportunities to both countries, as the pipeline enhances Russia-China cooperation in the development of non-traditional energy technologies.
"The pipeline triggered the deeper cooperation in many other areas, so its launch has not only technological meaning," Luzyanin said.
"Russia would like to switch this cooperation from the sheer resources export-import operations to cooperation in innovations, like nuclear energy, creation of techno-parks and other joint projects," he said.
"Russia tries to get away from the completely commodity-based nature of its energy cooperation with China," the expert added.
The Russia-China pipeline, from Russia's Dzhalinda to Daqing, China's key crude producing and refining base, is expected to replace railways to become the prime transport of Russian crude oil to China.
Ling Ji, minister counselor for economic and commercial affairs at the Chinese Embassy to Russia, told Xinhua in an earlier interview that energy cooperation "has always been a very important component of Sino-Russian economic ties."
In particular, he mentioned that the pipeline is of strategic importance to both countries.
Analysts said the pipeline will greatly boost bilateral trade and help diversify the markets of an energy-rich Russia and the source of China's energy imports.