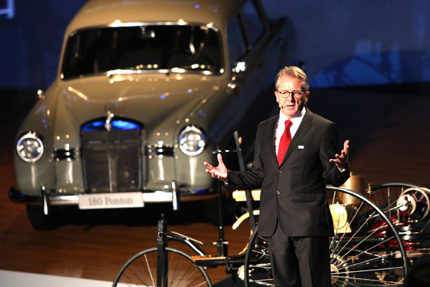 Ulrich Walker, chairman and CEO of Daimler Northeast Asia, explains the brand history of Mercedes-Benz last night as the car maker inaugurates Mercedes-Benz Arena in Pudong New Area.
Mercedes-Benz has every reason to celebrate as it not only looks back on 125 years of innovation but also on an extremely successful business year 2010.
The luxury car unit of Daimler AG yesterday inaugurated the Mercedes-Benz Arena - formerly known as the Shanghai World Expo Cultural Center - to celebrate the auto maker's 125th anniversary as the inventor of the automobile and the industry's global leader.
It marks the first Mercedes-Benz Arena outside of Germany and the first spectacular highlight in a year with multiple worldwide activities planned to celebrate the 125th anniversary.
"Taking this special commemoration momentum, Daimler and Mercedes-Benz will further deepen our commitment to the rapidly developing Chinese market through significant investment and localization," said Ulrich Walker, chairman and CEO of Daimler Northeast Asia.
Mercedes-Benz delivered more than 18,190 units of Mercedes-Benz, smart, AMG and Maybach vehicles on China's mainland in December, up 94 percent from a year earlier.
This helped the company to wrap up 2010 on a high note by posting sales of more than 147,670 units, marking its best year in China and propelling China into its top three passenger car markets worldwide.
The blistering sales also represented a growth rate of 115 percent year on year, further solidifying its position as the fastest growing premium brand in the world's largest auto market over the past several years.
The results far exceeded the company's initial annual sales target of 100,000 units.
In line with the growing success, Mercedes-Benz expects to sell 300,000 cars annually by 2015, making China the auto maker's biggest market.
Mercedes-Benz currently has 166 dealerships in around 80 cities in China. More than 25 new dealerships are expected to open annually in the coming years.