"China has approved a draft plan for an amendment to the personal income tax law that would raise the threshold of taxable personal income, the State Council announced March 2, adding that the plan would be submitted to the National People's Congress, the country's top legislature, for review."
----From the government work report

A review of personal income tax (PIT):
■China promugated the Personal Income Tax Law and decided to set the taxation threshold at 800 yuan in 1990.
■On October 27, 2005, China's top legislature decided to raise the PIT threshold from 800 yuan a month to 1,600 yuan. The decision came into force on January 1, 2006.
■On December 29, 2007, the standing committee of the People's Congresss passed an amendment to the Personal Income Tax Law.
■The Chinese government raised the PIT threshold from 1,600 yuan a month to 2,000 yuan in March 2008.
The following is a chart of change of PIT threshold over last twenty years: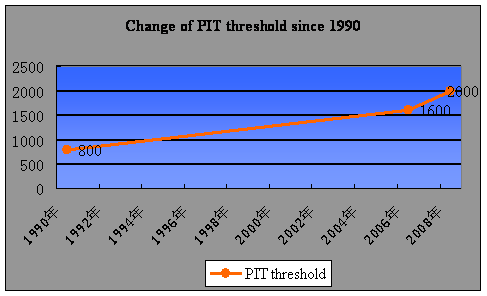 Related storires:
•  Income tax threshold to be raised                  • China to address widening income gap
•  Income distribution reform on the way           • Prioritize people's prosperity
•  University president cautions against growing income gap