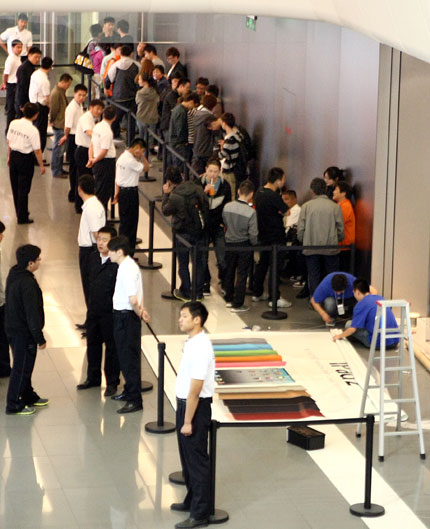 Dozens of Apple fans start to line up outside the Apple Store on Huaihai Road M. in Shanghai last night, waiting to buy the company's new iPad 2 tablet computer. Two employees are preparing a huge poster of the iPad 2 for the device's sale launch on the Chinese mainland today. [Shanghai Daily]
Apple Inc's iPad 2 will be sold officially on the Chinese mainland today, which is expected to help the United States firm boost its revenue in China.
Consumers can purchase the latest version of Apple's tablet computer in Apple China's online market, four Apple retail stores in Beijing and Shanghai and Apple's distributors including Gome and Suning, China's top electronics retailers.
In Shanghai, they can buy it in Apple's two local retail stores in Lujiazui area and on Huaihai Road M. It is also available in five local Gome stores, including one in Xujiahui area, Gome Electrical Appliances said in a statement yesterday.
The Wi-Fi iPad 2 will cost 3,688 yuan (US$558) for the 16GB model, 4,488 yuan for 32GB and 5,288 yuan for 64GB, according to distributors.
The 3G iPad 2 models, which require local telecommunications partners, won't be available in the domestic market.
In March, Apple launched iPad 2 in the United States, which is thinner, lighter, has two cameras and the FaceTime video call function. It became available in several markets, including Japan and Hong Kong, last month.
The official launch of the iPad 2 has caused prices of smuggled iPad 2 to fall in China. On taobao.com, the country's biggest online auction website, the iPad 2 price has fallen to 4,000 yuan, from 4,800 yuan to 5,500 yuan previously.
In the second quarter, Apple's iPhone sales in China surged nearly 250 percent annually, significantly higher than the 155 percent growth it posted in the US.