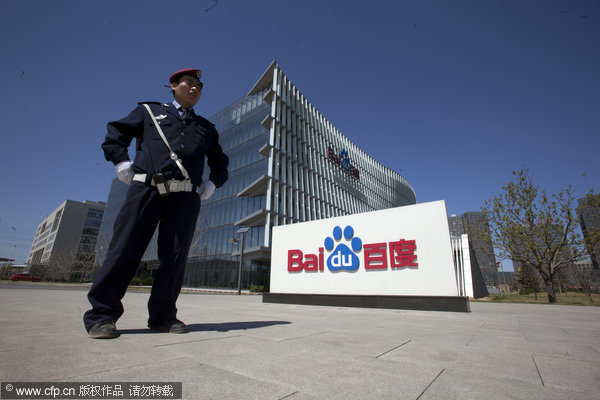 CCTV criticises Baidu for fraudulent advertisement on its Web site. [CFP]
Baidu, China's largest Internet search engine, issued a statement Wednesday evening pledging to step up internal supervision, in response to a spate of criticism from state-run broadcaster China Central Television (CCTV).
Baidu said sponsored advertiser fraud exposed in CCTV's investigative report was the result of individual misbehavior and did not reflect company policy.
"The company will pay more attention to the issue and conduct an internal investigation," the statement said. "Baidu will seriously deal with any behavior that violates corporate regulations and remove fraudulent advertisements on the Web site."
Over the past few days, CCTV has broadcast a series of reports showing Baidu helped unlicensed pharmaceutical companies circumvent government regulations to appear at the top of its search results.
CCTV has also criticized "slanderous posts" by Internet users on the company's Tieba forums, which Baidu has allegedly refused to delete.
The shares of Baidu on Nasdaq have plummeted in the wake of the media criticism, but international investment banks remain upbeat about the Chinese tech giant's prospects.
American investment firm Stifel Nicloas still rates Baidu a "buy" and has set its target price at US$190, well above Wednesday's closing price of US$136.92. The firm said in a report that big Internet companies inevitably have problems with fraudulent advertising – it is not an issue unique to Baidu.
China's business press carried the story above on Thursday.