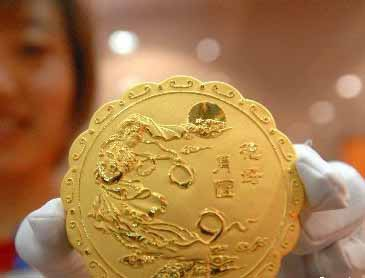 Mooncakes made of precious metal go on sale in Beijing. [Web photo] 
Gold mooncakes hit the market More than 30 different mooncakes made of gold appeared in display cases at Beijing's Caishikou Department Store Saturday.
The selling of gold mooncake as collector's items or decorations before the Mid-Autumn Day has become a tradition at Caishikou Department Store, the largest local gold and jewelry retailer. This year's biggest weighs 100 grams and is priced at 60,000 yuan (US$9,402), a store staff said.
Prices of other items in the lineup range from 2,000 yuan (US$ 313) to more than ten thousands. The continued soaring of gold prices makes the gold mooncakes popular items for customers. So far, the best selling cakes are the ones at the thousand yuan range.