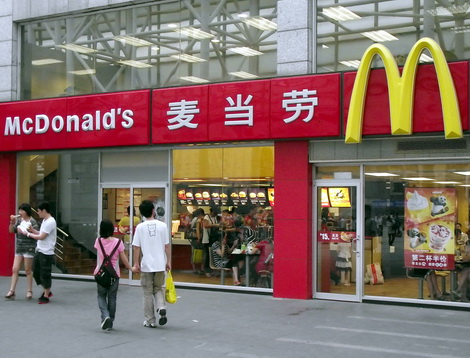 Customers at a McDonald's Corp outlet in Changzhou, Jiangsu province. The restaurant chain is adapting its strategy in China to accommodate changing conditions in the industry.[China Daily]
McDonald's Corp, the world's biggest fast-food chain, is tweaking its strategy in China to take account of changing industry conditions.
The new efforts include loosening its ownership structure to expand the number of stores and renovating current stores to provide a better customer experience.
Last week, McDonald's expanded its trial franchise program to include Kunming North Star Enterprise Co. The move allows the local catering company to take over the 11 existing stores in Yunnan and open new ones throughout the province.
"We are walking our way through this franchise program, we will continue looking for franchise partners in China," Kenneth Chan, chief executive officer of McDonald's (China) Co Ltd, said on Tuesday.
McDonald's relies heavily on franchises in developed markets including the United States, but in China almost all its stores are self-operated.
The trial program was launched in China six years ago. But before last week it had only three franchisees running six restaurants. Expanding the program is expected to help it accelerate a plan to expand its China network to more than 2,000 outlets by 2013.
Adding more stores will help the US-based company to put more resources into China, where competition in the fast-food market has intensified two decades after the golden arches first made an appearance.
At present, the top spot is held by rival Kentucky Fried Chicken, owned by Yum! Brands Inc, which has about 3,200 locations. McDonald's has about 1,300.
More players are coming in, giving consumers more choices and threatening to cut into McDonald's market share.
The Chinese fast-food chain Kungfu Catering Management Co Ltd has more than 300 Zhen Kungfu restaurants, while Taiwan's Ting Hsin Group operates more than 1,000 Dicos fried-chicken stores.
Other chains, including California Pizza Kitchen Inc and German upscale seafood chain Nordsee GmbH, also plan to enter the market.
To foster customer loyalty, McDonald's is renovating existing stores and remodeling its traditional yellow-and-red decor into a more relaxed and stylish bistro design.
By creating a better dining environment, McDonald's hopes costumers will visit more often, and not just for the food.
The latest renovated store reopened on Tuesday in the upscale CITIC Square in downtown Shanghai. The new store features free WiFi, cozier seats, selected music and outdoor seating.
By 2014, about 70 percent of McDonald's stores in China will have a similar look.
The renovation, said Chan, will help McDonald's stay "one step ahead of the game" and be "different from other brands" in China.