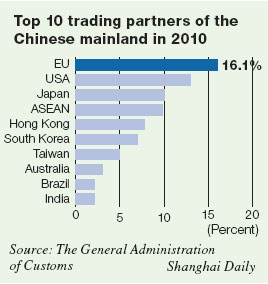 China celebrates the 10th anniversary of its entry into the World Trade Organization on Sunday, and riding on the coattails of its success is Shanghai clothing and accessories maker Lilan.
The small company began as a manufacturer for foreign brands but now boasts its own line of fashion merchandise thanks to the elimination of apparel quotas ushered in by membership in the international trading club. Orders in the three years following WTO ascension surged.
"Looking back, it's like a dream that I never want to wake up from," said Zhu Yongzhen, general manager of Lilan. "I was employing nearly 300 workers by 2004 and kept them very busy with a flood of new orders."
Indeed, Zhu is not alone in hailing the success of membership in the body set up to oversee freer movement of global goods and services. It took China nearly 15 years of hard negotiations to gain entry, and nobody wants to squander the fruits of that labor.
"China has achieved great success in the past decade," Commerce Minister Chen Deming said last week. "It is due, in part, to the WTO system, which is stable, transparent, predictable and non-discriminatory."
China's exports have increased almost fivefold since 2001, catapulting the nation past Germany last year to become the world's biggest exporter. Imports in the decade surged 4.7-fold.
Global investment
Foreign direct investment in China surpassed US$700 billion during the period, with capital from more than 347,000 overseas firms ranking China as the top magnet for global investment among developing countries.
"China more than doubled its gross domestic product to become the world's second-largest economy last year," Chen added.
WTO membership is also credited with helping increase industrial competitiveness within China. The manufacturing sector experienced a fivefold increase since 2001, turning out higher-value products in the automobile, shipping, rail and other heavy industry segments. China now boasts 54 companies on the Fortune 500 global list, compared with only 12 back in 2001.
WTO membership has been a two-way street. China's overall tariff was reduced to 9.8 percent from 15.3 percent 10 years ago, and more than 100 sectors have been opened to foreign investors. China's imports, averaging US$750 billion a year in the past decade, created about 14 million jobs overseas, helping boost the economies of trading partners.
By the end of last year, China was the biggest trading partner of Japan, South Korea, the Association of Southeast Asian Nations, Australia and South Africa. It ranked second with the European Union and third with the United States, according to government figures.
"This decade has seen China share its prosperity with the rest of the world and make its greatest contribution ever to global economic growth," said Wan Jifei, chairman of the China Council for the Promotion of International Trade and the China Chamber of International Commerce.
Despite all the glowing statistics and accolades surrounding this 10th anniversary, success is always dotted with setbacks.
For Lilan, it was the global financial crisis of 2008. The company had begun marketing its own apparel and accessories lines in Europe and the US, slowly climbing up the valued-added chain, when the crisis erupted.
"It was a nightmare," Zhu said. "There were virtually no new orders for production at the beginning of 2009, which made it impossible for me to invest more money in developing our own brand. I had to halve the number of my employees."
The past decade under the WTO was even more difficult for other industries that found themselves embroiled in anti-dumping charges and other trade disputes. In sectors ranging from tires, bolts, bicycles and electric blankets, to chickens, art paper and audio-video goods, manufacturers have had to address accusations that they were not playing by the rules.
According to the Ministry of Commerce, more than 70 percent of the world's anti-dumping and countervailing investigations in the past year were aimed at China, making the country the world's biggest victim of trade disputes. China suffered 66 such investigations in 2010, involving more than US$7.14 billion in trade.
Most of the accusations have been denied.
In the city of Shenzhen, a major hub of small export-oriented firms and gateway to Hong Kong, direct losses from new trade barriers amounted to US$4.75 billion last year, and added about US$5.71 billion in costs for the city's exports. About 55 percent of exporters in Shenzhen were affected.
"What's worse, trade rows, which once focused mainly on a particular product, now show a trend of targeting broader industries and policies," Zhang Jinsheng, director of the Shenzhen's WTO Affairs Bureau, was quoted as saying by the People's Daily.
"For Chinese exporters, most of whom are small private firms, responding to such complaints is a very serious, difficult challenge," he added.
China's rising status as an exporter and a producer of higher value goods has triggered jealousy and fear in some countries, Yu Jianhua, an assistant minister at the Ministry of Commerce, said last month at a press briefing in Beijing.
Dispute settlement
"We should try our best to treat these matters calmly and actively use WTO rules to defend our rightful interests," Yu said.
The WTO offers members a dispute settlement mechanism, which Yu called fair.
Since joining the WTO, China has been taking a more central role in world trade affairs.
The nation is a core member of the Doha Round of trade negotiations. In his latest review, WTO Director-General Pascal Lamy gave China high marks for its overall performance in the past decade.
Looking ahead, Chen said China will further expand market access for foreign investors, improve its tariff structure and promote more balanced trade. The door to overseas capital in sectors such as finance, health care, education, tourism and elderly services will be opened wider.
But progress will depend on reciprocity, Chen said.
China has been seeking to reduce its heavy reliance on exports to buffer its economy against trade slowdowns such as the one affecting Europe at present. The emphasis is on expanding domestic consumption.
Lilan is moving with the times. To offset a drop of orders abroad, the company, which now employs 200 people, is looking to expand in the domestic market.
That does not mean Lilan is giving up its export dreams, Zhu said. Rather, the company is biding its time and sharpening its competitive skills for the next 10 years of trading.