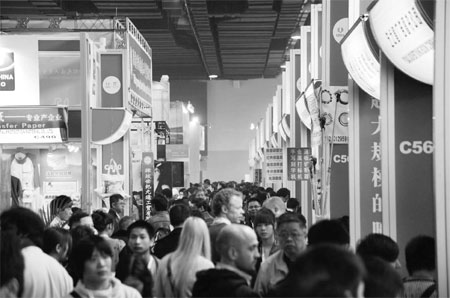 An international advertising exhibition in Guangzhou. China's advertising market grew by 14.5 percent last year. Advertisers spent more than 680 billion yuan ($108 billion) on print, TV and Web advertising.[China Daily]
Kevin Roberts once made headlines machine-gunning a Coca-Cola vending machine at a black-tie event hosted by the prime minister of Canada.
Another time, he brought a live lion to a company meeting.
Such eye-catching ideas and tactics have earned Roberts, the 63-year-old CEO worldwide of the global advertising agency Saatchi & Saatchi, fame as an advertising visionary.
Roberts is now eyeing business with Chinese clients who wish to expand overseas.
"China is the fastest growing country in my business, close to 20 percent over the last year," he said during a recent interview at the company's Beijing office.
"Our first target is Chinese companies who want to go abroad," he added.
China market
Saatchi & Saatchi entered China 23 years ago with Procter and Gamble (P&G). The company has more than 50 clients in China. Some half dozen are Chinese enterprises, including industry giants China Telecom Ltd and Lenovo Group Ltd.
According to Justin Billingsley, head of Saatchi & Saatchi Greater China, the company's China strategy followed three stages of development.
The first stage was to help successful multinational corporations, such as P&G, build business in China. The second stage is to help Chinese companies establish their brand. Stage three is to help Chinese companies explore overseas markets, Billingsley said.
Saatchi & Saatchi sees Chinese companies going abroad as the "biggest opportunity", Roberts said.
At the same time, he is looking at China as a source of talent.
"Young kids in China are not defensive, they play offense," the rugby enthusiast said.
Because companies in China have relatively small advertising budgets, there is a greater need for strong and innovative ideas, he said.
"You can't just hire David Beckham or Victoria Beckham, you have to have good ideas," he added.
Roberts looks to the younger generation for creative ideas because the young are more connected to the outside world, and "less fearful", he said.
'Less fearful'
Creativity and being "less fearful" were what gained Kevin Roberts advertising fame.
Roberts machine-gunned a Coca-Cola vending machine some 20 years ago to highlight a free-trade agreement issue between the United States and Canada.
Roberts was then head of Pepsi Canada, which unlike Coca-Cola, employed local bottlers. Pepsi had just surpassed Coca-Cola in Canada, so Roberts was invited to give a speech at an event hosted by the Canadian prime minister.
"I decided to make it a big TV moment," he recalled.
After finishing his speech, Robert donned a pair of safety glasses, bent down and picked up a machine gun. The audience was quiet until he started to shoot the Coca-Cola vending machine.
"We had people diving under tables and heading for the doors," Roberts wrote in his best-selling book Lovemarks.
The next day, the media was full of reports about this.
Roberts said he is looking for someone capable of such creative marketing skills globally, and especially in China.
The average age at Saatchi & Saatchi is 27, and most come with little experience, but, Roberts said, "We pick talent."
The biggest problem the agency faced was keeping talent, as competitors were likely to offer 30-percent higher salaries.
"We hired them, we trained them, and the other companies stole them," Roberts said.
That was five years ago. Now, more and more people choose to stay because working for Saatchi & Saatchi is "more fun and more exciting", he claimed.
Asked whether he worries about Chinese competitors doing a better job, Roberts said: "I never think about that. I only think about Saatchi & Saatchi. I support Manchester City football team, but I can't worry about Manchester United," he said.
However, Roberts said he has focused more on the company's China business.
Chinese-led team
As of May 2011, Roberts split the China business from the Asia-Pacific region. China head Billingsley now reports directly to the company's headquarters in New York.
"I did this for three reasons," Roberts said.
"First, the progress in China is lightning-fast, so if the Chinese arm wants something, all they have to do is to ask me. I wanted to have no bureaucracy to slow the growth in China," he said.
"The second reason is that Asia Pacific is an incredibly big region. The economies of Japan, India, Australia, New Zealand and Thailand all have their own problems to address, so to add China to this region was not only too much, it did not get the right amount of attention," Roberts said.
The third and most important reason is the next generation of leadership at Saatchi & Saatchi China. "I want to develop Justin and his key-team person, because Justin will be the last foreigner to run Saatchi China," Roberts said.
"The candidates have to be passionate, competitive, curious and have lots of ideas," Roberts said, adding that he expects the company to welcome its first Chinese regional CEO within the next three years.
In 2011, China's advertising market grew by 14.5 percent, according to a Charm Communications Inc report. Advertisers spent more than 680 billion yuan ($108 billion) last year on print, TV and Web advertising.
Saatchi & Saatchi has some 500 employees in China. About 20 percent are Westerners. Roberts said he is convinced that a Chinese management team running the business in China is merely a first step.
"Five years from now, some of those Chinese will go overseas," he predicted. "Lenovo will be the No 1 computer company in the world. It will beat IBM Corp and Hewlett-Packard. They are unstoppable, because they do things right."
Roberts liked two advertising ideas in particular that came from the company's China office. One was the "Head & Shoulders China's Got Talent" campaign for P&G's shampoos, and the other was Kraft's Prince biscuits advertising campaign.
"These were China initiatives for the Chinese consumers, because that's the future," Roberts said. "We cannot come here anymore and just be a Western brand."
Roberts knew of the importance of localization back in 1989, when he took over as chief operating officer for Lion Nathan Ltd, a merger of beverage and food company Lion and retail company Nathan in Australia.
"At my first meeting, I was thinking about how to make an impact for the public to remember the name of the new company," Roberts said.
He couldn't think of anything for Nathan, so he decided to make use of Lion, he said. He went to the Auckland Zoo and asked the zookeeper if they had a lion.
The zookeeper looked at Roberts and replied: "You are an idiot; this is a zoo, of course we have a lion," he recalled, whereupon, Roberts said: "Can I borrow it for some time?"
The next day when he attended his first company meeting with 150 financial analysts, he brought in a lion with him.
"I walked in the office with the lion, and just as it happened, the lion saw 150 faces and got scared," he said. The lion let out a roar which shook the entire building. The financial analysts were terrified, but they never forgot the name of the company, Roberts said.
"That was successful branding."
Saatchi & Saatchi
In 1997, Roberts had a choice of either joining the sportswear and footwear giant Nike Inc to run its rugby department globally, or becoming the CEO worldwide of Saatchi & Saatchi.
"Saatchi & Saatchi was the only advertising company that my mother ever heard of," Roberts said, but that was not the reason he decided to join the company.
When he was in the Beverly Hills Hotel in Los Angeles, California, Saatchi & Saatchi's worldwide creative director Bob Isherwood sent him a fax.
"This is our inspirational dream, to be revered as a hothouse for world-changing creative ideas that transform our clients' businesses, brands", the fax said. "So KR, you can either change the world or sell shoes."
That did it. "I came to Saatchi & Saatchi because of the dream," Roberts said.
However, the company was in trouble, and employee morale was at an "all-time low", he said.
"I was advised to bring in my trusted guys: my HR guy, my marketing guy, my money guy," he said. "Instead I didn't bring in anybody, or move anybody for the first two years," Roberts wrote in his book.
Roberts dropped the word "advertising" from Saatchi & Saatchi's name, and dubbed the firm as an "ideas company".
"We had great people. We had the most famous brands in the world. We had the best clients, such as P&G, Toyota and General Mills," he said. "The only missing element was some creativity." The kind of creativity - machine-gunning a vending machine, or bringing a live lion into a meeting - that some would call "crazy", he added.
Roberts looks for open-minded Chinese companies to work with, so that his company may help them in the global market.
"I work with the clients who think I am crazy, but all progress comes from crazy people," he said.
However, the craziest thing this advertising visionary did has nothing to do with his work life.
Roberts was kicked out of school at age 16 because he got his then-girlfriend pregnant. That girl was Roberts' first love. They had a daughter but were never married and have remained best friends for half a century.
"That was pretty crazy; that was pretty crazy," Roberts said. "But I am not ashamed of this, I was just 16 years old."