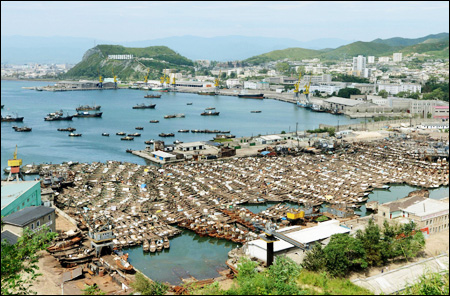 A general view of Cheongjin Port in North Korea
China has recently obtained the rights for a 30-year-lease of the Chongjin Port in North Korea, the Global Times reported on Sept. 12.
The lease aims to boost trading between China, South Korea, Russia and Japan for the resurgence of the regional economy in China's northeastern area, reported JoongAng Ilbo, a South Korean newspaper, on Sept. 11.
According to JoongAng Ilbo, China's investments into the port total Euro 9.34 million (US$12.01 million), more than half of the ports aggregated Euro 15.46 million of reported investments, with the rest coming from North Korea. China has pledged to jointly develop a collaborative platform with its neighbor under a set of specific rules, mostly concerning the composition of the executive council, the allocation of dividends and labor management. The port's cargo capacity is expected to expand from thousands of tons at present to over 1 million tons by 2015.
China-based Yanbian Haihua Group and North Korea Port Company singed a cooperative agreement for the 30-year lease of the No. 3 and No 4 docks in Chongjin Port, and aim to develop a 7-million-ton capacity in the near future, reported China-based Yanbian Daily on Sept. 10.
According to South Korean media, the information released is highly credible and has attracted the attention of the DPRK's southern neighbor.
Access to the Chongjin port highlights China's efforts to revitalize its northeast region, especially the areas of Liaoning, Jilin and Heilongjiang Provinces, the South Korea newspaper JoongAng Ilbo reported.
The Chosun Ilbo, another South Korean newspaper, reported the deal in its front page on Sept. 11.
However, the paper viewed the announcement with skepticism, and questioned how much progress the projects would actually make. It highlighted the differences of opinions of the DPRK and China, and said that much needed to be done to successfully complete the project.
"China wants to use the wharves merely for access to maritime ports, but North Korea wants Beijing to build massive industrial complexes around the ports," the article said. "Such projects are often scrapped because the two sides are unable to reach agreement."
JoongAng Ilbo reported that Jang Song-thaek, the uncle of North Korean leader Kim Jong-un, signed a deal with Chinese government officials in mid-August to carry out full-scale construction for a harbor and railroads in the Rason Special Economic Zone.
North Korea has received 6.12 million euros (US$7.82 million) in rental charges for the 3,180 square-meter (34,229 square-feet) piers and a 4,000 square-meter cargo yard from the Chinese company, and paid for the newly-built joint venture, the newspaper said by quoting a Chinese source.