China needs more reforms to liberalize interest rates and boost bond selling as the country's financial sector faces risks from piling corporate debt and an economic downswing, officials and economists proposed on Wednesday.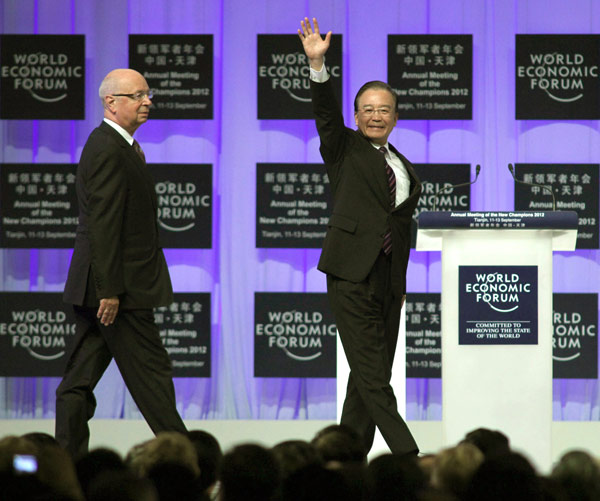 Premier Wen Jiabao and Klaus Schwab, founder of the World Economic Forum, attend the opening ceremony of the Annual Meeting of the New Champions 2012, also known as the Summer Davos, which is taking place in Tianjin.
China's company debt remains high and is even increasing in some places, building risks for Chinese banks, a major source of company financing, said Dai Xianglong, chairman of the National Council for Social Security Fund, during the ongoing 2012 Summer Davos Forum in north China's Tianjin.
Chinese enterprises have an overall debt-asset ratio of 105.4 percent, well above the 80-percent alert line and putting them top of a 20-country ranking produced by the Chinese Academy of Social Sciences (CASS), CASS vice president Li Yang said in May.
Li Daokui, director of the Center for China in the World Economy, also sounded an alarm bell for Chinese banks, saying the lenders posed the biggest risk for the country's financial sector.
Chinese banks' total asset value was already more than twice the country's gross domestic output, said Li at a session during the forum.
Banking institutions saw their total asset value reach 122.9 trillion yuan ($19.4 trillion) by the end of July, according to official figures.
Meanwhile, Fang Xinghai, director-general of the Office for Financial Services under the Shanghai municipal government, warned a lot of financial risks may emerge if unforeseen circumstances cause precipitous decline in China's economic growth rate, which will be the greatest risk for the financial sector in the next five years.
"However, if we advance market-oriented reforms in this sector, it will drive economic growth in return," he told the session.
Within the next five years, the government is expected to make more breakthroughs in reforms including interest rate liberalization and bond market development, Dai Xianglong said.
The central bank has gradually loosened its grip on interest rates since June this year, allowing banks to offer a deposit interest rate 10 percent above the benchmark and a lending rate 30 percent below it.
In April, the government also increased the amount of investment quotas for qualified foreign institutional investors to venture in China's securities market. The number leapt from 30 billion U.S. dollars to 80 billion dollars.
Dai suggested the central bank give small and medium-sized lenders even bigger room for interest rate movement.
Allowing banks to decide interest rates freely will force Chinese banks to speed up transformation of their businesses and explore international markets, according to Xiao Gang, chairman of Bank of China.
The liberalization will help narrow the currently large gap between loan and deposit rates and prompt banks to lend more to smaller companies and innovate in their operations to seek more profits, Xiao told the session.
Boosting the long underdeveloped bond markets in China is viewed by many as a key.
Bond issuance can reduce companies' reliance on bank loans and reduce risks in the banking sector, Dai believes.
China's bond markets have been troubled by segregated management, as different types of companies are subject to regulation by different government departments.
"The development of the bond market has become the biggest constraint for China's financial reforms," Dai said, urging a unified bond market.
Li called on the government to accelerate the practice of allowing banks to issue asset-backed securities, saying the move can mitigate banks' financing pressures and stimulate the bond markets.
China began to pilot asset securitization in 2005 but progress slowed during the global financial crisis as regulators worried about the risks of such a practice.
The China Development Bank, a national policy bank, issued 10.17 billion yuan ($1.6 billion) of asset-backed securities last week, the first such sale since the global financial crisis.
Meanwhile, Dai provided a reminder that financial reforms should not be hurried and must be carried out gradually. "There are financial risks that are not yet fully exposed that can make us very nervous and have a big impact on China," he warned.