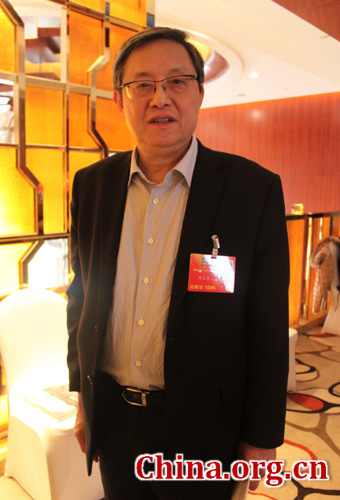 Zhou Wenzhong, a CPPCC member and secretary-general of the Boao Forum for Asia [Wang Wei/China.org.cn]
As the U.S. economy slowly recovers, its trade protectionism has kept growing. "There is the possibility that trade frictions between China and the U.S. will escalate in 2013," said Zhou Wenzhong, a CPPCC member and secretary-general of the Boao Forum for Asia.
Zhou once worked as Chinese ambassador extraordinary and plenipotentiary to the United States from 2005 to 2010.
"Trade frictions are normal, but the point is how to deal with them," he said.
There are many uncertainties for the recovering U.S. economy. With a high unemployment rate, the U.S. obviously turns to protectionism for help in many aspects, Zhou said. What Sany Group, China's largest machinery manufacturer, has been facing in the U.S. is "a very good example, although the country argues that its acquisition, in the name of the company's U.S.-based subsidiary, poses a potential security threat to the U.S."
Ralls Corp, a Sany affiliate located in the U.S., last year filed a complaint against President Obama and the Committee on Foreign Investment in the United States (CFIUS) for blocking its ownership of four wind farms in Oregon.
The company announced on March 2, 2013, that its core request in the lawsuit against the U.S. president had been accepted.
The core request, which maintains that the president deprived Ralls of its legal property without executing any legal procedures, was accepted by the U.S. District Court in Washington, under a preliminary ruling on February 22, 2013.
"The U.S. made this decision under its judicial system, which doesn't mean that Sany Group will win the lawsuit." Zhou argued.
It's quite important for Chinese companies, when going global and gaining access to the U.S., to choose the appropriate projects and cooperate with local companies to avoid risks, he emphasized.
Meanwhile, although the U.S. government is now urging its manufacturing to return home, that would have very little real impact on China's manufacturing sector, according to Zhou. It depends on the market whether these companies would like to return, or in other words, "whether those companies could earn more."
Over the past years, U.S. manufacturing has moved out of the country due to the higher costs there. Nowadays, this situation has changed relatively little. Although the U.S. government now offers some preferential policies, they cannot compensate such high costs just yet, Zhou said.