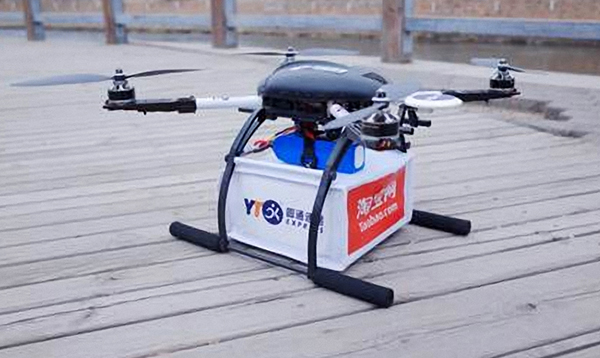 Shanghai YTO Express (Logistics) Co will use drones similar to this one to deliver packages in Beijing, Shanghai and Guangzhou from Wednesday to Friday. [China Daily]
Some online shoppers in China will have to look to the skies for their packages on Wednesday.
Using five drones, a Chinese express company is partnering with e-commerce giant Alibaba's retail site to launch the first public air delivery campaign in China.
The country's answer to Amazon CEO Jeff Bezos' airborne robots home delivery plan has triggered debate over whether the futuristic technology will solve problems or be a hindrance.
Shanghai YTO Express (Logistics) Co said it will deliver online orders from China's largest customer-to-customer shopping site taobao.com using drones near a number of distribution sites in Beijing, Shanghai and Guangzhou, Guangdong province, from Wednesday to Friday.
Packages will be delivered within one hour of taobao.com receiving online orders, YTO Express said.
The company has set some conditions for the three-day test. Buyers must be within a certain radius and each drone will only carry products weighing less than 340 grams for every delivery. Buyers must also order a designated brand of ginger tea online.
Qin Xiaochun, manager of YTO's market planning department, said the company is looking at possibilities for the commercial operation of drone deliveries. "In the future, we will bring in professional researchers of airborne deliveries to help us," Qin said.
Sf-express.com Inc, a company in Shenzhen, Guangdong province, launched an internal drone test program similar to Amazon's drone home delivery service as early as 2013. The current status of the program remains unclear.
The future of the drone delivery business is unclear in China even for the most optimistic observers. Safety concerns and regulations on the use of airspace have cast a shadow on the operation of drones in the country.
Wang Xiaoxing, an analyst at research company Analysys International, said drones will not replace delivery workers in China in the foreseeable future.
"Chinese online shoppers are the most-spoiled worldwide. There's no place in the world that offers a one-hour delivery like Chinese companies do. Even same-day delivery is difficult for countries with high labor costs," Wang said.
"Local players do not feel any pressure to adopt drones, and the regulations remain unclear."