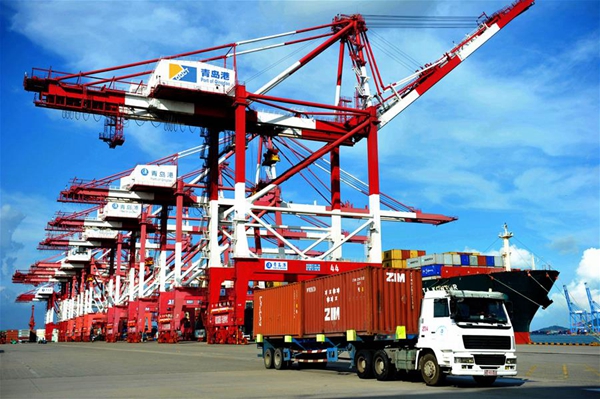 A truck transfers containers at Qingdao port in Qingdao, east China's Shandong Province, Aug. 8, 2016. [Xinhua]
China's economy is estimated to grow by about 6.7 percent in 2016, the top economic planner said Tuesday.
The economy would exceed 70 trillion yuan (about 10.1 trillion U.S. dollars) last year, an increase of 5 trillion yuan, Xu Shaoshi, minister in charge of the National Development and Reform Commission, told a news briefing.
Steady growth and the performance of new sectors have debunked predictions that China's economy will collapse or face a hard landing, and the growth rate was remarkable among major economies, he said.
Citing a report by the International Monetary Fund, he said that China may have contributed 1.2 percentage points, or over 30 percent, of the world's economic growth in 2016, while the United States might account for 0.3 percentage points.
This would mean China has been the top engine of global growth for 10 years in a row.
China is confident in and capable of maintaining the reasonable growth rate thanks to its economic structural reforms and emerging new sources of growth, Xu said.
As China adapts to a new normal of moderate-to-high growth, it has tried to shift from an export-and-investment driven economy to one that is more sustainable and draws strength from consumption, services and innovation.
In the first three quarters of 2016, the economy expanded 6.7 percent, well within the government's target range of between 6.5 and 7 percent.
During that period, the service sector accounted for 52.8 percent of value-added industrial output, 13.3 percentage points higher than secondary industry, while consumption accounted for 71 percent of the growth, up 13 percentage points, Xu said.
Meanwhile, value-added industrial output of the high-tech manufacturing sector and innovative industries increased 10.6 percent and 10.87 percent, respectively, from the previous year, he said.
The economy is in better shape for cleaner development, with a five-percent drop of energy consumption per unit of GDP and continuous declines of major pollutant emissions, he added.
Besides, the country has exceeded its annual target for job creation, adding over 13 million new jobs in 2016.
The latest sign of a warming economy came on Tuesday as the National Bureau of Statistics (NBS) said China's producer price index (PPI), which measures costs for goods at the factory gate, narrowed its decline in 2016 from the previous year.
PPI for the whole of 2016 dropped 1.4 percent year on year. The pace of decline was 3.8 percentage points narrower compared to that of 2015.
The reading increased 5.5 percent year on year in December 2016, the biggest gain since September 2011 and marked the fourth straight month of increases.
A rebound in PPI could boost corporate profits and lower financing costs, said Deng Haiqing, chief economist with JZ Securities.
The NBS also released figures on China's consumer inflation in 2016, with the consumer price index rising two percent, a reading below the government's three-percent target.