Donald Trump, the U.S. President-elect blustering about a trade war against China, is all smiles after meeting Jack Ma, a leading Chinese entrepreneur.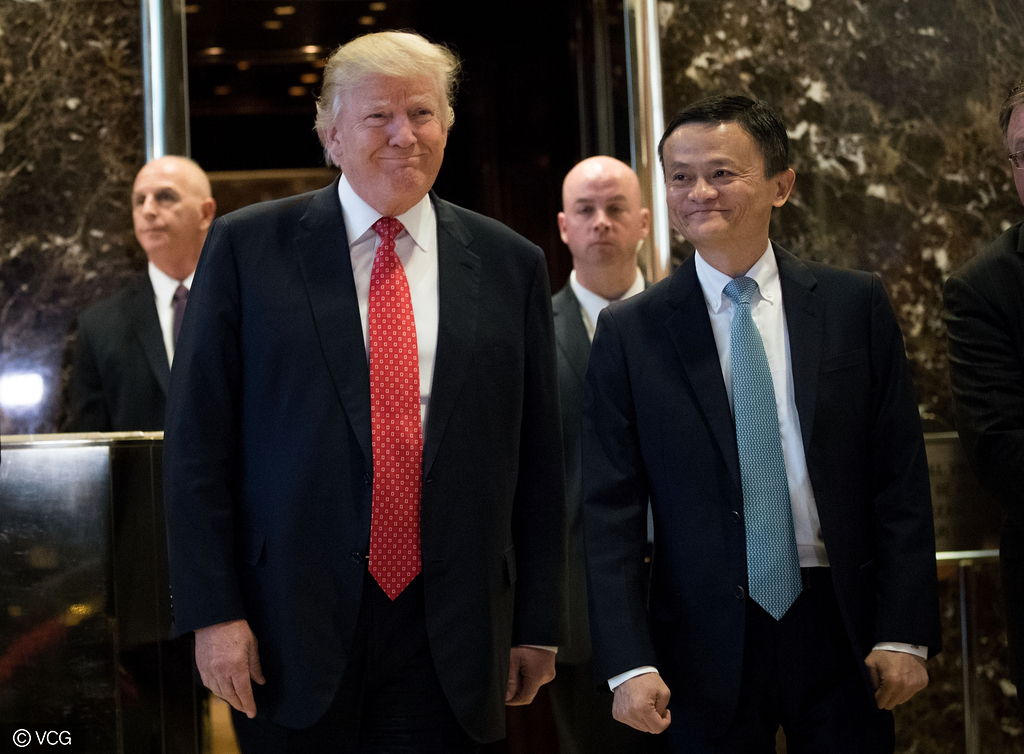 U.S. President-elect Donald Trump meets with Jack Ma, the founder and executive chairman of Alibaba Group in Trump Tower on Jan. 9. (Photo: VCG)
In a 2015 Op-Ed for the Wall Street Journal, Jack Ma, the founder and executive chairman of Alibaba Group, outlined his company's vision for helping U.S. jobs and exports:
Our U.S. strategy is simple and clear: We want to help U.S. entrepreneurs, small business owners, and brands and companies of all sizes sell their goods to the growing Chinese consumer class. Chinese consumers will get to buy the American products they want. This, in turn, will help create American jobs and increase U.S. exports.
Creating American jobs is the mantra of none other than the U.S. President-elect Donald Trump. This would explain why he and Jack Ma met in New York on Jan. 9 in Trump Tower, now effectively an alternate White House where Trump regularly meets power brokers.
Jack Ma promised during the meeting to help create 1 million U.S. jobs over the next five years by enabling small businesses to sell goods on Alibaba's tremendously successful e-commerce platforms.
Alibaba has 450 million active users selling 100,000 brands on its various platforms with total gross merchandise sales of $485 billion for the fiscal year ending on March 31, 2016. This is higher than $482 billion of revenues reported by Walmart, the world's largest brick-and-mortar retailer, in its fiscal year ending on January 31, 2016.
While it's still early days to say how Alibaba would bring U.S. business owners into play in China's lucrative e-commerce, certain industries may benefit from Jack Ma's U.S. ambition more than others.
In the same WSJ Op-Ed, Jack Ma believed fresh foods, cosmetics and baby products made in the U.S. and Europe could be highly competitive in the Chinese market. In a more recent interview with CNBC, Alibaba spokesman Robert Christie said, "We know there's big demand for everything from makeup to vitamins to lotions to clothes in China."
Before a family apparel company in Georgia could send its first shipment to a Chinese port, however, obstacles of Trump's own doing need to be removed.
During the presidential campaign, Trump threatened a trade war against China, vowing to impose a 45 percent punitive tariff on Chinese imports to save American jobs. Of Trump's 7 Point Plan To Rebuild the American Economy by Fighting for Free Trade, three specifically target China's monetary policy and trade practice.
A trade war with China, however, is exactly what it would take to derail Jack Ma's newly unveiled plans to boost the U.S. job market and by extension Trump's professed goals of doing the very same.
A vicious cycle of tariff slapping could take hold between the world's two largest economies should Trump follows through with his threats of calling China out on its so-called currency manipulation and unfair subsidies, in turn pushing up U.S. export prices for Chinese consumers.
The U.S. government has consistently ignored calls to label China a currency manipulator since 1994.
Could Trump's high profile meeting with Jack Ma, the face of Chinese entrepreneurship, hints at a change of tack for the impetuous President-elect's trade policy towards China?
His raucous rhetoric and antics aside, Trump is a businessman at heart. He could do much worse than strike a deal with one of the world's biggest companies, and by the same token, one of the world's fastest growing economies.