Low-carbon products will be the first choice for both enterprises and individuals in the future, as severe smog hits northern China more often and the fight against air pollution becomes unprecedentedly urgent.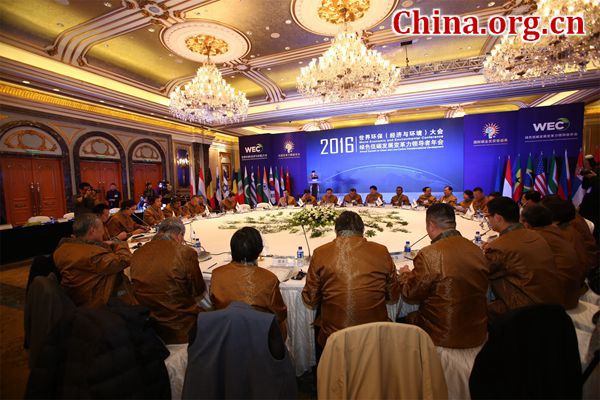 The 2016 Annual Summit on Green and Low Carbon Transformational Development is held in Beijing, Jan. 13, 2017. [China.org.cn]
A low-carbon life should not just be driven by social responsibility, but should also be market-oriented, said Li Junyang, vice president and general secretary of the International Ecological Economy Promotion Association (IEEPA), at the 2016 Annual Summit on Green and Low Carbon Transformational Development in Beijing.
The IEEPA, a professional non-government organization dedicated to boosting energy conservation, environmental protection and China's sustainable development, is working on low-carbon certification for daily necessities, including food, beverages, daily chemical products, household appliances, stationery, etc.
"Carbon emissions need to be quantified throughout the production, transport, sale and use of these daily products," said Li, adding that the IEEPA has established a firm – Beijing Global Index Technology Co., Ltd. – under the approval of the Beijing Municipal Government to carry out research on low-carbon product standards and certification.
Low-carbon product certification will urge relevant enterprises to make products using eco-friendly materials and upgrading technologies.
According to Li's assumption, each individual or household will have a carbon account in the future, recording their own emission reductions, which can then be liquidated in consumer market. While green and low-carbon consumption becomes more common, production will also be boosted on the basis of low-carbon emissions.
South Korea has now taken the lead in the world by promoting market measures to arouse enthusiasm among its citizens to lead a greener life. With a green credit card, people can accumulate points for saving on utility use – such as tap water, electricity and gas heating – using public transport or purchasing eco-friendly products. These points act as tangible economic rewards and can be used like cash to purchase products and services at a variety of places, such as hotels, restaurants and theaters.
The IEEPA, working together with relevant non-government organizations from South Korea, is trying to promote these successful practices and launch relevant pilot projects in China.
At this year's Annual Summit on Green and Low Carbon Transformational Development, three individuals and 22 enterprises received the 2016 International Carbon-Value Award (ICA) in various categories.
The ICA, launched annually by the IEEPA since 2011, aims to encourage enterprises from home and abroad to be pioneers in leading the green and low-carbon transformational development in their respective fields.