It was not quite like Christopher Columbus discovering America but still, it was the outside world sighting virtually new land when last year's G20 Summit was held in Hangzhou, a city in east China that despite its picture-postcard prettiness and cultural legacy did not enjoy the kind of international recognition that Beijing or Shanghai have.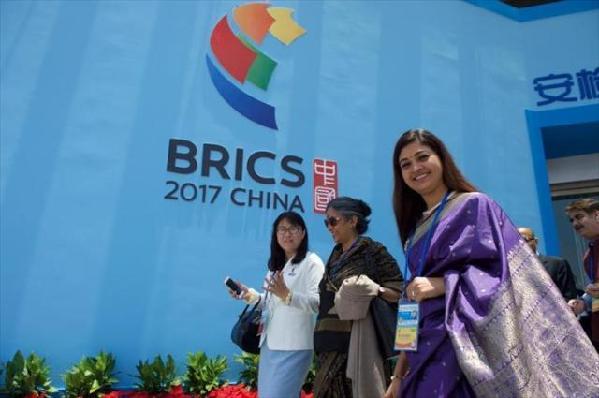 Guests from BRICS member states gather in Fuzhou, capital of south China's Fujian Province, to attend a forum on BRICS political parties, think tanks and civil society on June 11. [Photo/Xinhua]
Now, another Chinese city will enjoy a similar catapulting in the global limelight as Xiamen, a coastal city in southeast China, hosts the Ninth BRICS Summit in September. The meeting will be a cynosure for several reasons, though not all of them are related to the BRICS mechanism.
Xiamen is one of the first cities in China to open up to the rest of the world, and the place where Chinese President Xi Jinping served as vice mayor for three years.
"Many scoffed when Jim O'Neill (then chief economist of Goldman Sachs) first coined the concept in 2001, but the idea gradually developed into a concrete cooperation mechanism," said Ni Jianjun, Deputy Director of the World Economy Institute at the China Institutes of Contemporary International Relations in Beijing. "Against the backdrop of the sluggish world economy, it is easier for BRICS countries to get a stronger growth momentum backed by the cooperation platform."
Today, BRICS countries—Brazil, Russia, India, China and South Africa—are composed of 3.6 billion people, 43 percent of the world's population, and a combined GDP accounting for 23 percent of the gross world product.
Balanced progress needed
It is an unquestionable fact that BRICS is expanding. Last year, China's economy grew at 6.7 percent and India's at 6.8 percent, taking BRICS' average growth to 5.1 percent, higher than the average global growth of 3.1 percent, according to IMF data. In the past decade, the group's share in global GDP grew from 12 percent to 23 percent and today, its contribution to world economic growth is more than 50 percent.
"BRICS will continue to be a growth engine of the world economy despite difficulties and challenges," Chinese Finance Minister Xiao Jie told reporters at the second BRICS finance ministers' and central bank governors' meeting in Shanghai in June.
As China enjoys a strong, dynamic industrial base, it has become a much sought-after source of imports for other BRICS members, which inadvertently leads to considerable amounts of trade surplus with them. That is why, when continuing to provide desired products to other member nations, China is also seeking more ways to increase imports through the BRICS platform to balance its international payments.