When Paloma Sanchez decided to quit her job at Patek Philippe to found her own jewelry brand in 2008, she had no doubt China was the place to be.
Paloma Sanchez speaks at the Hong Kong International Jewelry Fair in September 2017. (Photo courtesy of Paloma Sanchez) 
She didn't know anyone in Beijing, nor a single word of Chinese; however, she was drawn to the energy and enthusiasm of an economy on the rise, reminiscent of La Movida, the period of cultural and economic boom in her hometown of Madrid in the 1980s.
"Everything was possible, and everybody wanted to do things, to create things," Sanchez said. "The energy was very contagious."
After securing a small storefront in Sanlitun, she began working toward establishing her brand — offering a uniquely difficult challenge for luxury items. As a gemologist, however, Sanchez had a distinct advantage.
Borrowing space from a restaurant upstairs, she taught a class on identifying the authenticity and value of gemstones to a small group of women — wives of foreign diplomats and well-connected businesspeople — and her name spread.
Now her modest jewelry store — the longest-established tenant of Sanlitun's Nali Patio — is the base for the artisan jewelry brand "Paloma Sanchez" that has gone international, with stores in Paris, Dubai, and a newly-opened one in Japan this year.
Sanchez said her brand was able to grow rapidly in China because the consumers were quick to become highly sophisticated in her industry.
"I was very surprised," she said, when referring to how quickly Chinese consumers learned. "At first, they only wanted the big brands — Cartier, Tiffany's, etc. But very soon, they learned the value of designer, one-of-a-kind jewelry."
Sanchez said she knew this transition would happen, but it had taken 50 years in Europe. In China, it took less than five. "Chinese people have the power to learn so quickly, they absorb things like a sponge," she said. However, this wasn't all good news, for, as Chinese tourists trot the globe, they are spending more and more on tourism and buying artisan jewelry overseas.
To adapt to this changing landscape, Sanchez returned to her roots as a well-known gem expert and educator. She recently gave talks at Tsinghua University as well as at the Hong Kong International Gems and Jewelry Fair.
Then there is WeChat, the multi-function social media app Sanchez could only have imagined when she first began building her clientele.
"WeChat has been a huge advantage for all of us," she said. She does not sell through WeChat, but rather uses it as a platform to cultivate relationships and stay connected with her customers, while introducing them to her new designs — a lot like her early gemstone classes, only much more convenient.
The rising tide of mobile internet
WeChat was just one of the gifts from China's ubiquitous internet and mobile connectivity, a boon for small businesses of every kind. For Juan Francisco Chia, owner of the Peruvian restaurant Pachakutiq, mobile apps have contributed much to his business.
Juan Francisco Chia mixes a traditional Peruvian Pisco sour at his restaurant, Pachakutiq. (Photo courtesy of Juan Francisco Chia) 
"Many customers come without knowing what is Peruvian food," Chia said. "They walk around with the app Dazhong Dianping (China's Yelp) and check which restaurant is highly rated, and they come in already knowing what to order — just by showing a picture from the app."
With food delivery apps, Chia did not need to hire his own delivery personnel. And through Taobao, the e-commerce platform, the restaurant could purchase supplies and have them delivered the next day.
Pachakutiq was Chia's second small business venture in Beijing, which he launched last November after having previously run a successful popup bar also with a Peruvian theme.
The timing for the launch could not have been better — right before Chinese President Xi Jinping's official visit to Chia's hometown of Lima, Peru. Back in Beijing, local interest in Peru peaked, and the new restaurant was featured by Xinhua and other media outlets.
"It was a very happy accident," Chia said.
Still, the restaurant's success was more than just a matter of luck. Chia said while it was an advantage for Pachakutiq to be the only Peruvian restaurant in Beijing, attracting Chinese customers unfamiliar with Peruvian cuisine was a challenge. The key, he said, was to strike a balance between localization and staying true to authentic Peruvian flavors and presentation.
"Most people who come to my place usually come back," Chia said. "I'm very, very happy about that."
Chia said while the environment for small businesses had changed over the last few years, especially with regulations being more strictly enforced as Beijing modernizes its buildings and streets, the general outlook is positive. In fact, thanks to new investment, he is currently looking for a site for a second restaurant. Meanwhile, Chia is paying close attention to restaurants similar to his that are expanding around China, perhaps eventually following their lead.
Opportunities for the creative
Connecting creative people to opportunities and helping them succeed was Lazius Kaye's mission in founding the community platform Creative Friends.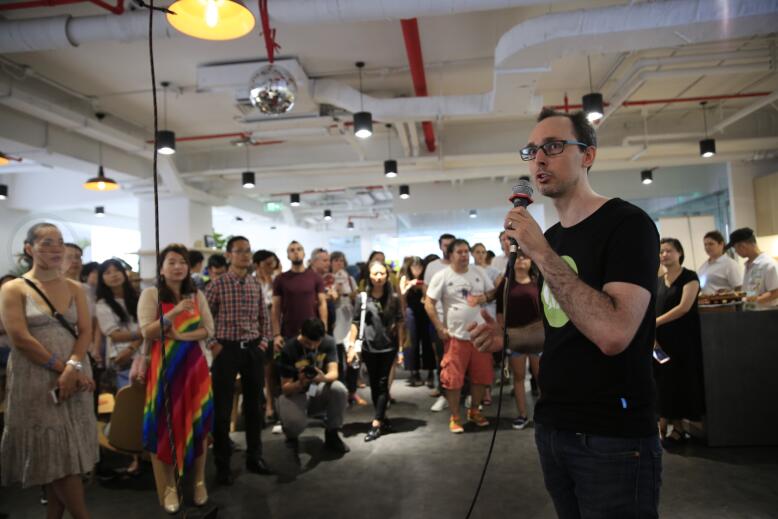 Lazius Kaye welcomes guests to an event hosted by Creative Friends. (Photo courtesy of Lazius Kaye)
As an experienced entrepreneur based in Singapore, the U.K. native came across many unheralded creative people during his trip to China in 2010, and he decided to take the plunge.
"They all had two common traits," Kaye said. "They were talented and their conditions of life needed to be improved."
Kaye said his company's mission fits well with the changing economic landscape in China, from "made in China" to "created in China."
"If China indeed wants to become a nation of creativity, it will need to recognize that talents play a vital role in its mission to modernize," he said.
After two years in development, Creative Friends now counts over 5,000 creative people from a wide spectrum of artistic and professional fields within its community, bringing together musicians and music producers, jewelry designers and advertising professionals, and even athletes and trainers.
Kaye said that, compared with the more cautious style of partnership in Singapore, the Chinese are hungrier for success, "probably due to its sheer population size, so getting things off the ground is much faster."
With support from creative industry veterans while leveraging mobile platforms and other new technologies, Kaye said he sees Create Friends becoming the market leading platform in Asia for business and creatives to connect. For creative people — and for small businesses — opportunities abound in China.